Posted by Fantasy Costumes Staff on 31st May 2016
Helpful Links:
Masquerade dresses can be tricky. Not fancy enough? Too fancy? Finding the right dress starts with matching it to the perfect party theme. If you don't go to many masquerade parties, you probably don't want to shell out hundreds of dollars for a dress you might not wear again. That's where renting a masquerade dress can save you big bucks.
We've put together 20 of the hottest masquerade looks you can rent online through Rent The Runway
Rent The Runway let's you wear designer dresses and gowns at a fraction of the purchase price. For more information on each dress, we've linked to it on RentTheRunway.com. Each dress is paired with a stylish mask that we carry, but feel free to browse our full selection of masquerade masks.
Allison Parris – Cobalt Marilyn Gown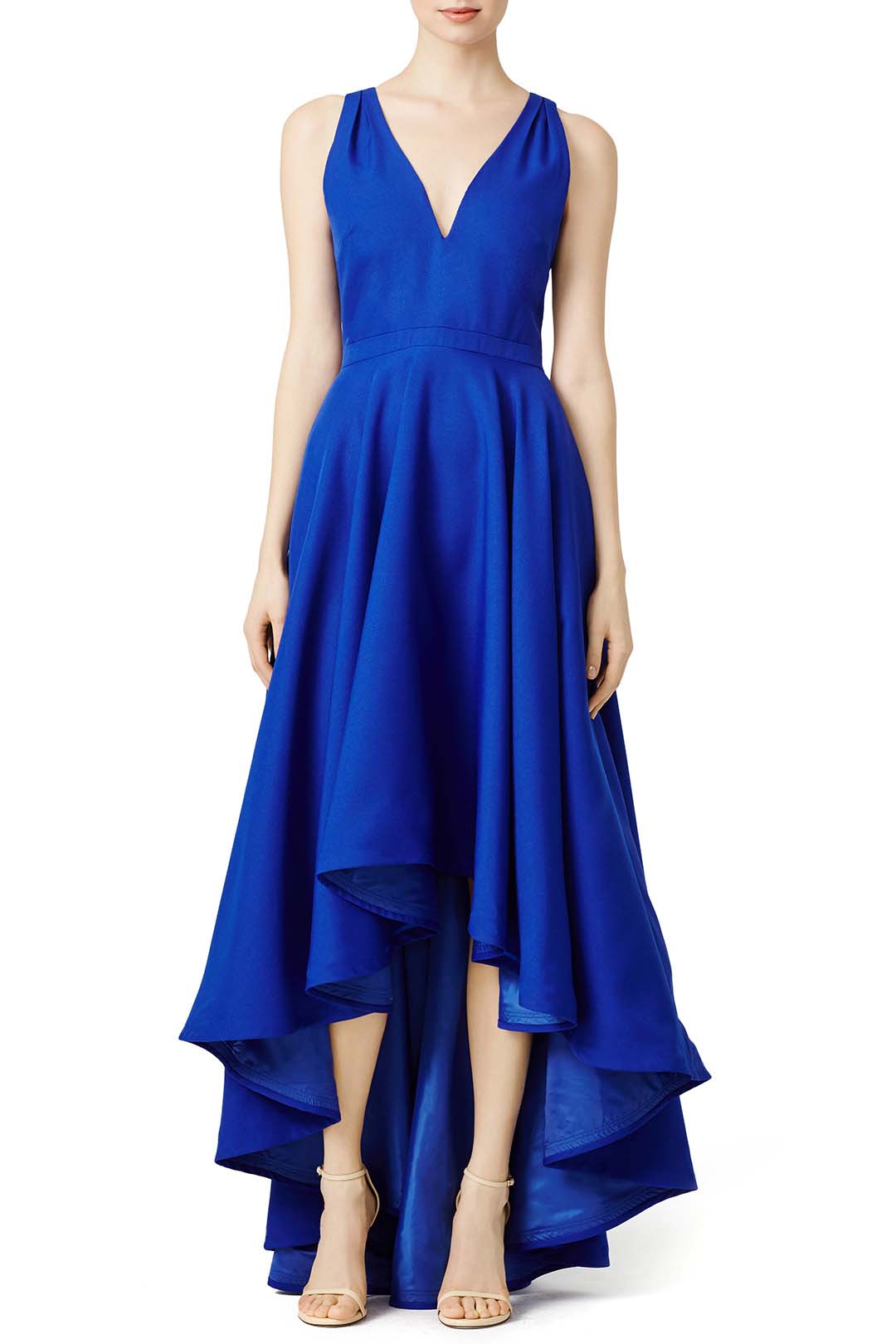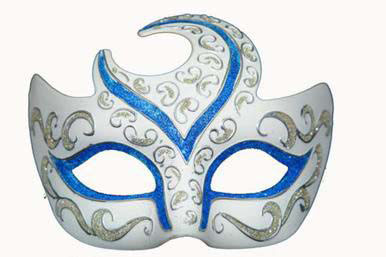 This gorgeous true-blue gown has a modernized, updated 1960s feel to it, with its high-front, low-back hem. Its sleeveless, petal-shaped bodice is unfussy, and doesn't dip down daringly low, but still allows you to expose a flawless décolletage - alternatively, the shape is simple enough that a statement piece of jewelry, like long earrings or a shining necklace, will fit right into place. Really, the flair here is all about the skirt, with its waterfall hem and swishy cotton crepe material – pretty high heels that let the hem swing teasingly above the floor will elevate this gown into the sublime. To color-code your look, try this Venetian half-moon mask in complementary shades – its dark blue, Ancient Egyptian-inspired eye lines, cool silvery tone and sparkling filigree embellishments will absolutely seal the deal.

Shop the look
Mask
---
Theia – Black Matte Dress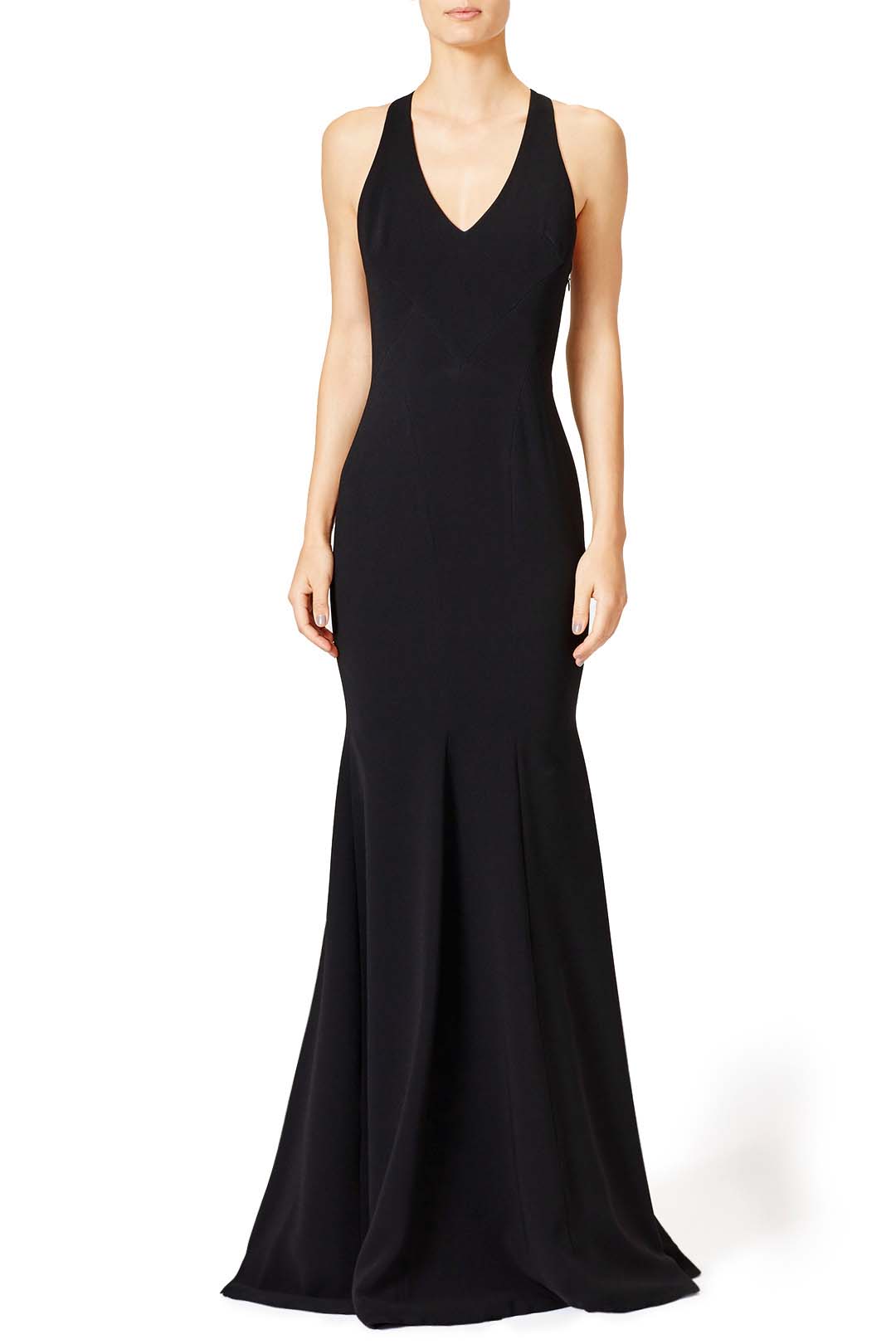 There's more to this seemingly simple Theia dress than meets the eye. At first, it just looks like a long, form-fitting black gown, perhaps a little uninspired for a masquerade ball – and then you can turn around to reveal the stunning cut-out, right down to the small of the back in a geometric, diamond-like shape. The architectural halter-neck straps that meet at the nape of the neck really make this look one to remember, and simple high-heeled shoes mean it won't puddle on the floor but fall just above it. For maximum impact, the best hairstyles for this dress are a pixie cut or elegant updo – although you must make sure it doesn't get in the way of your mask! Speaking of which, a touch of monochrome simplicity suits this dress perfectly – keep it black and white with this fashion raindrop mask, and its classic figure-of-eight shape.

Shop the look
Mask
---
Badgley Mischka – Flora Chiffon Gown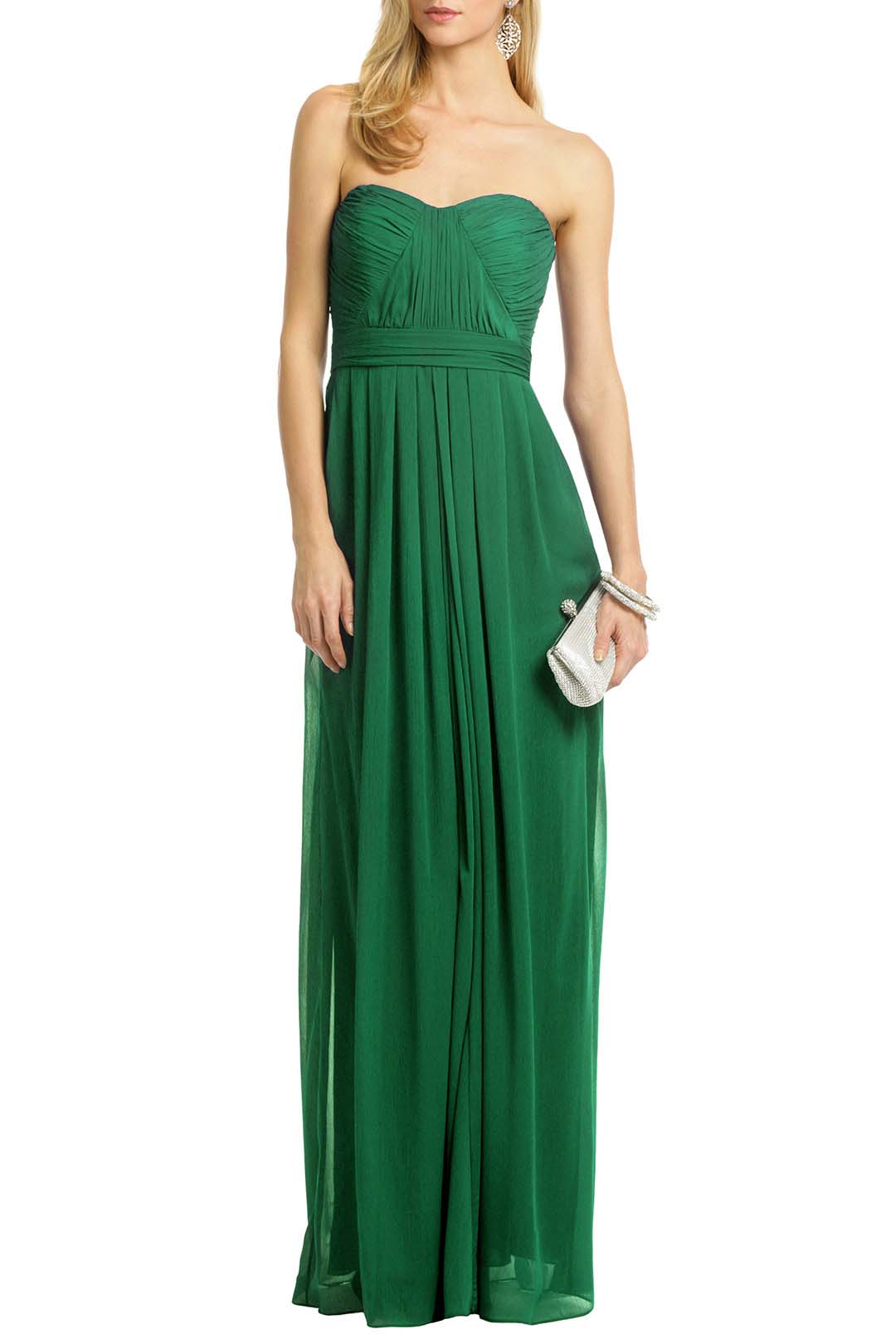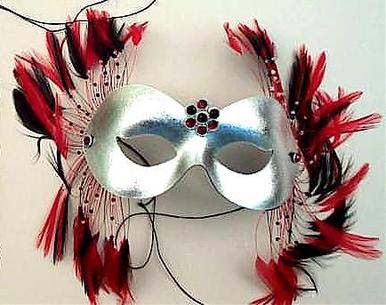 Emerald-green might seem like a bold proposition, but for a tanned brunette or a pale redhead, it's a surefire winner. This lovely chiffon gown will turn heads left and right – and its strapless sweetheart neckline means you can show off long hair, drop earrings or a necklace to your heart's desire. The ruched, tucked bodice flatters the bust, while the narrow fitted waist flares out to a long lined skirt to cinch you in and create an elegant, effortless-looking silhouette – it's this plain, fuss-free cut that makes it a perfect option for going all out at a masquerade ball. Might we suggest a stunning Odyssey feathered mask in silver and beautifully contrasting red to go with the deep green tone of the gown? A little jeweled detail never hurt anyone, either.

Shop the look
Mask
---
ML Monique Lhuillier – Red Mark Dress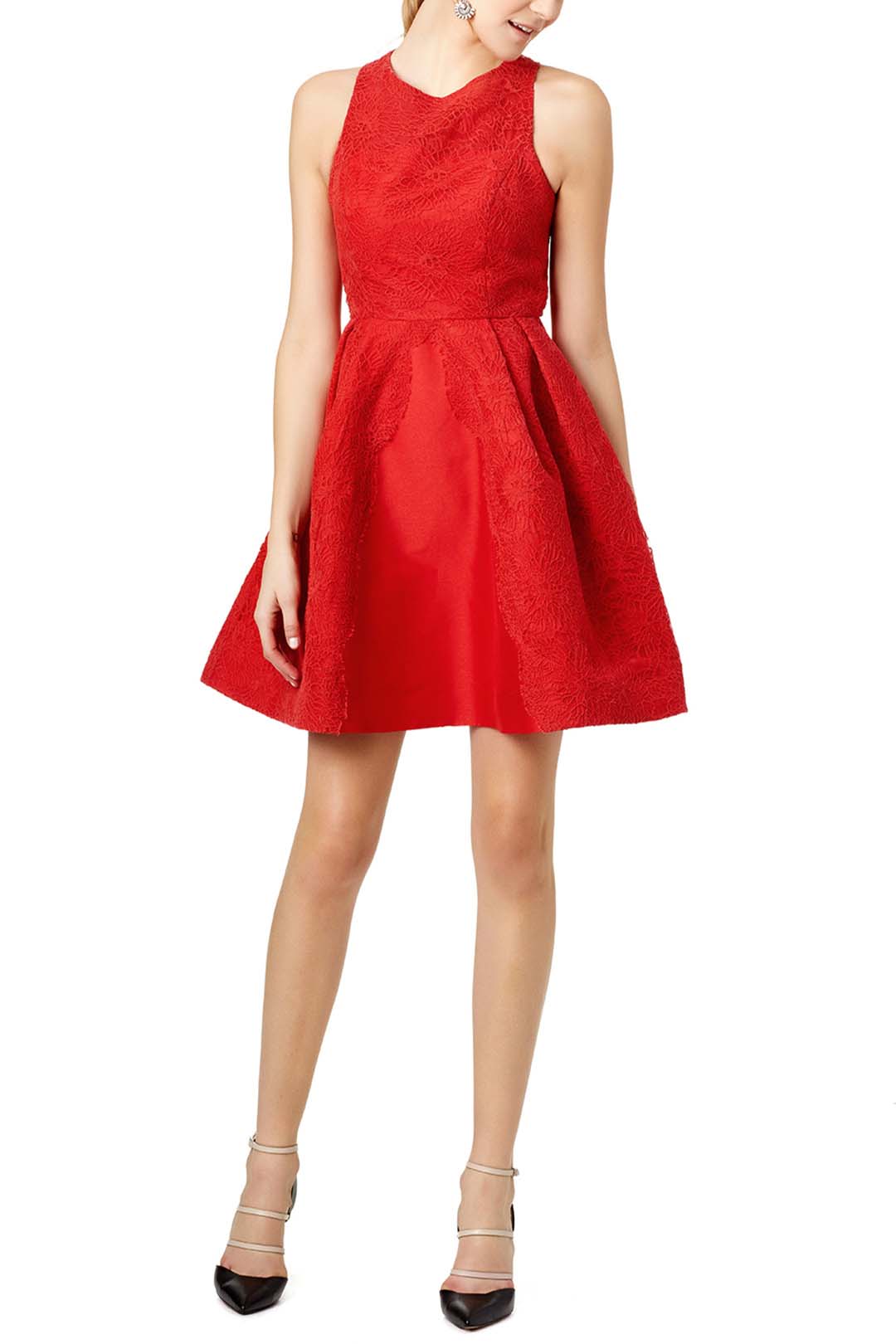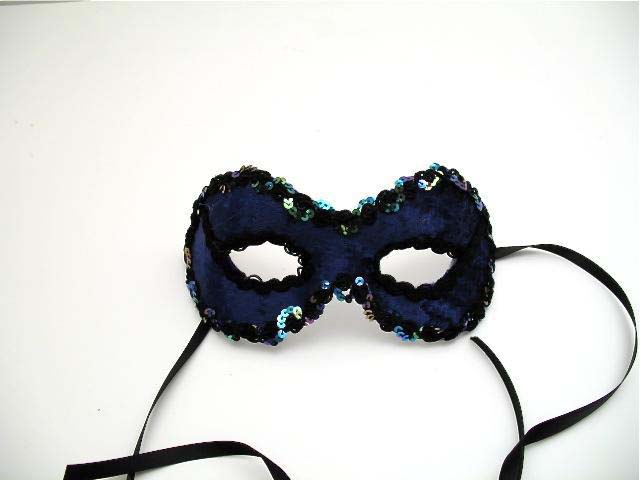 Love your legs? Then there's no reason to keep them covered up with a long gown. Try a short, flirty skater-style dress instead. This little number is intricately detailed with floral lace patterning up close, but is equally striking from afar – the fit-and-flare skirt and high neckline are beautifully gamine, giving it a 1950s feel. Not to mention that the wide criss-cross straps between the shoulderblades allow for a very pretty geometric back cut-out at the waist! This is another option best worn with a simple updo or loose, shorter hairstyles – though its length will let you go wild with shoe choices, since they're going to be thoroughly shown off. Continue the lace detail with a deep indigo Diana masquerade mask – its feminine look and the glimmer of its sequin edging make for a subtle yet lovely style mix.

Shop the look
Mask
---
Badgley Mischka – Night at the Oscars Gown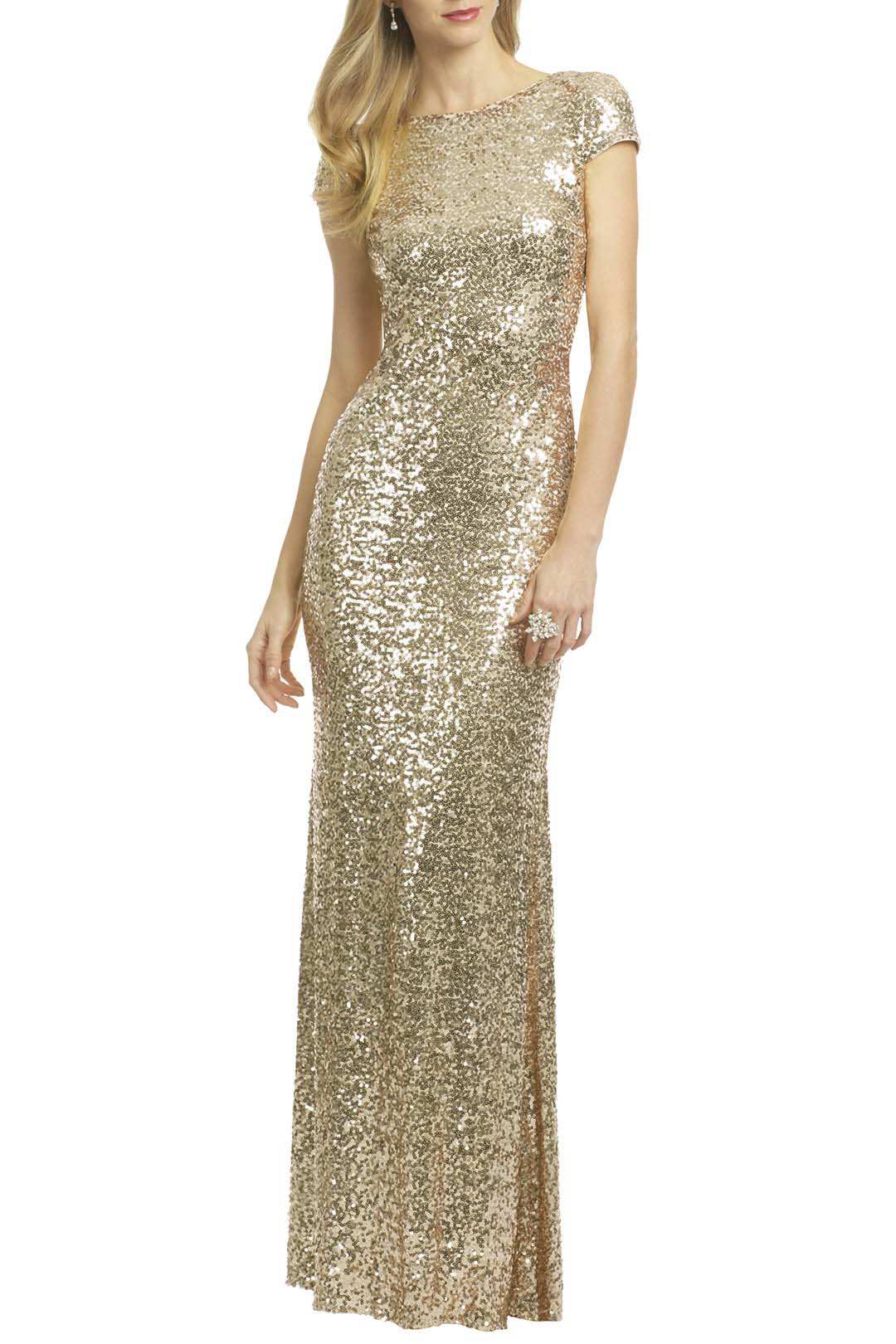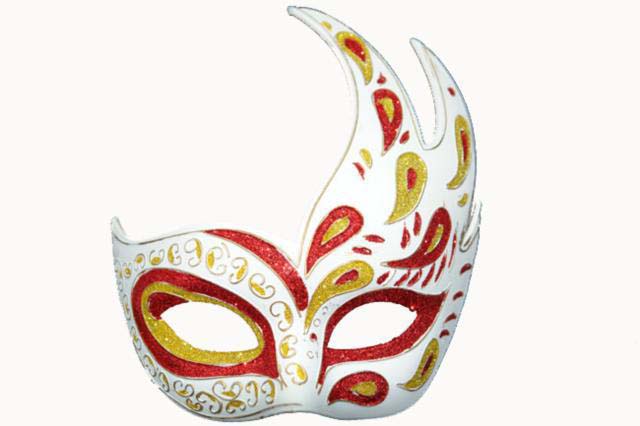 Gold and glitter always wow, and this long form-fitting gown is no exception to the rule. If you've got it, flaunt it, they say – and what could be more perfect than a body-form look that's still super-flattering and barely shows off any skin at all? The chic, ultra-slim silhouette it imparts and the pretty cap-sleeved style will lend you a real air of old Hollywood glamour, and the low-draping back is a nice touch, striking a perfect balance between sexy and conservative. With hair worn up or down and simple accessories, plus a nice pair of kitten heels, you'll feel a million dollars in this gorgeous gown. Though a little unconventional in shape, we can't imagine anything more perfect to accompany this dress to a masquerade ball than this red, white and gold Venetian wave mask, with its filigrees and little points of bright, eye-catching detail.

Shop the look
Mask
---
ML Monique Lhuillier – Odyssey Gown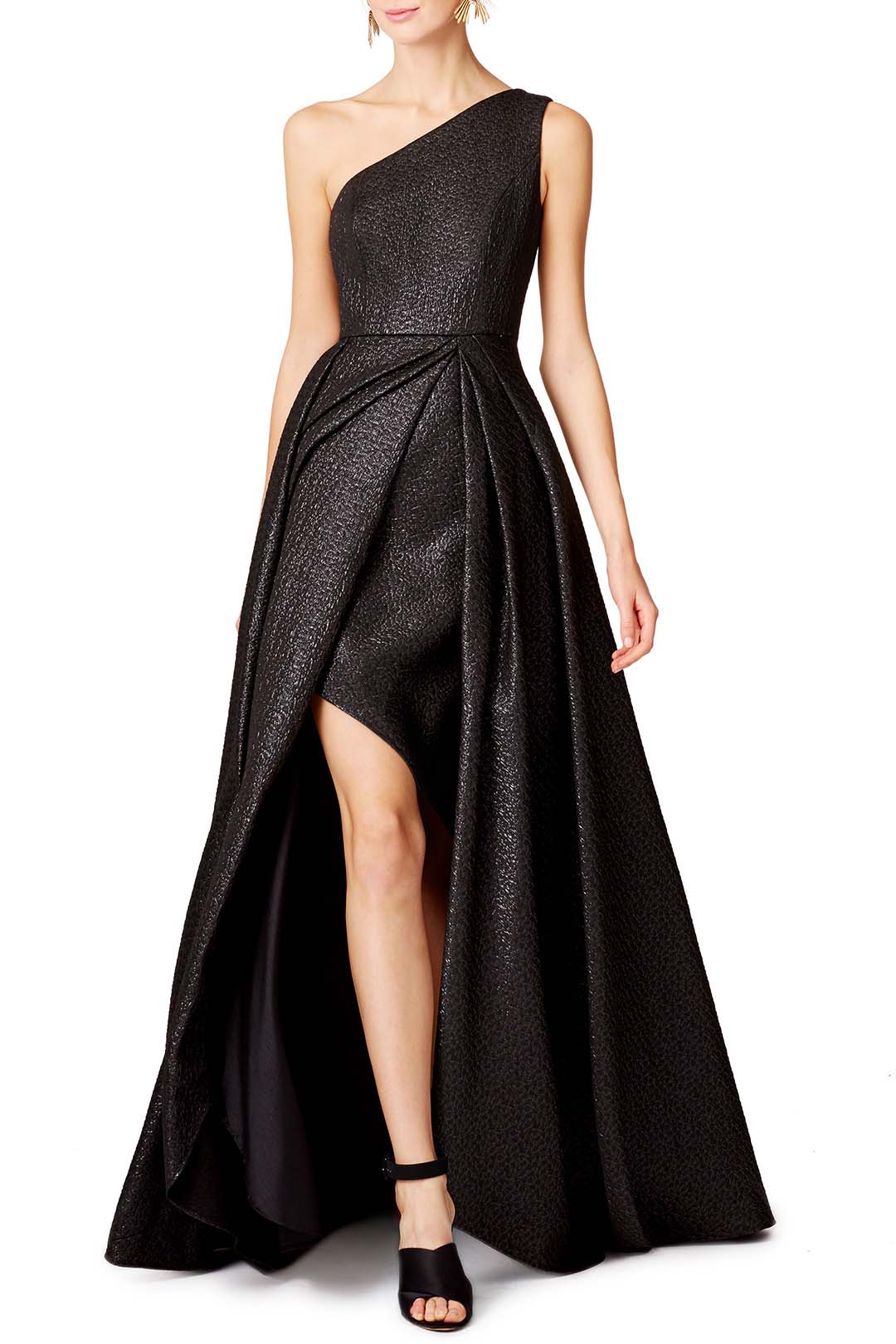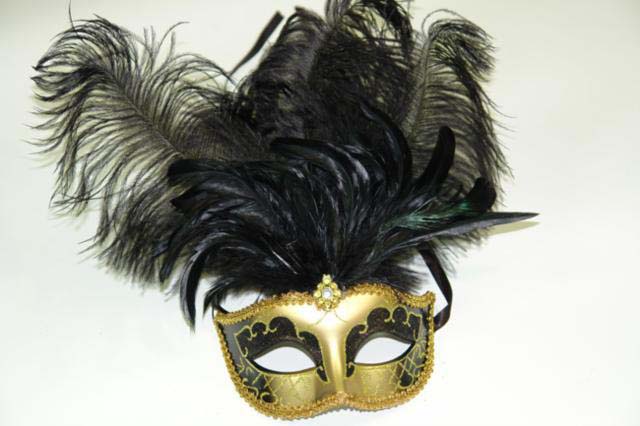 This striking leather-look dress (don't worry, vegans – it's lurex) makes up for in dazzle what it lacks in formality. And who wants to be stiff-backed in a cumbersome ball gown, anyway? The asymmetrical off-the-shoulder neckline, as well as the daring high-low hem, make this a great option for anyone who wants to show off a little leg or clavicle, and the shimmer is simply stunning. A pair of evening heels and a side ponytail – or, chunky, irreverent platforms and a curly hairstyle – will ensure all eyes are on you. Plus, the unembellished, no-fuss material makes it perfect for going all out on a fun mask. In fact, why not treat yourself to this beautiful gold Venetian one with its extravagant black feather detail? That's the beauty of this combination – when your dress is stripped down and simplified, you've got full rein to go for a striking, feminine mask.

Shop the look
Mask
---
Nicole Miller – Tempted by You Gown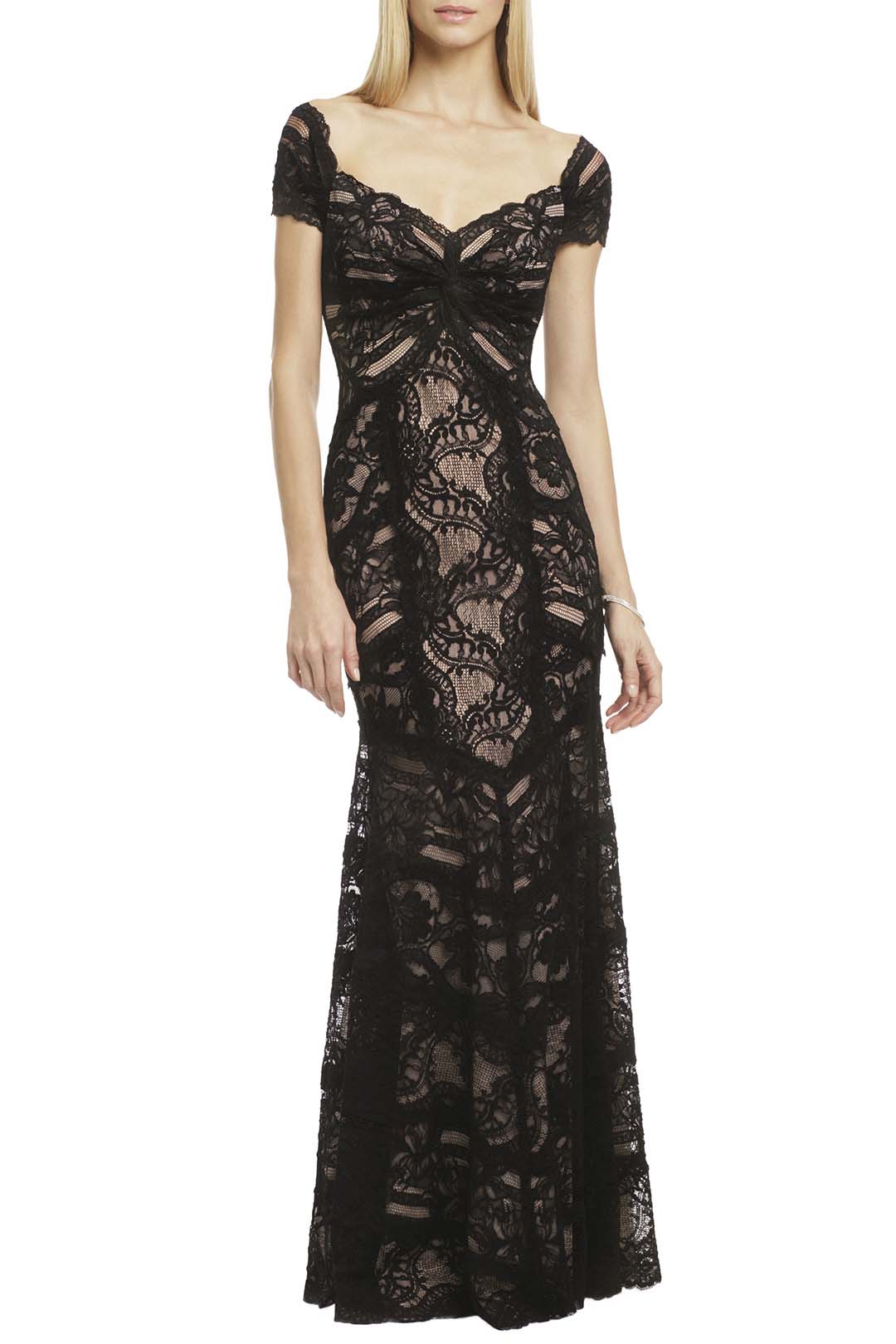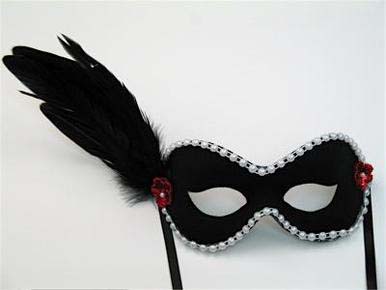 For a lingerie-inspired, barely-there look that's still modest and classic, why not try this gorgeous black and nude floor-length gown? Doesn't sound too sexy, but believe us when we say it provides more than enough va-va-voom! Subtle and understated, yet still intricately detailed with a floral-inspired lace pattern, its off-the-shoulder neckline goes perfectly with the A-line skirt for just a hint of sultry decadence. It clings in all the right places and flatters almost any body type; plus, you can keep your hair and shoes simple for relaxed glamor or more intricate to complement the V-shaped neckline. The Portia feathered mask will fit right in – its pearl and red flower details are simple variations on a classic shape, much like this gown!

Shop the look
Mask
---
Halston Heritage – Indigo Lavelle Gown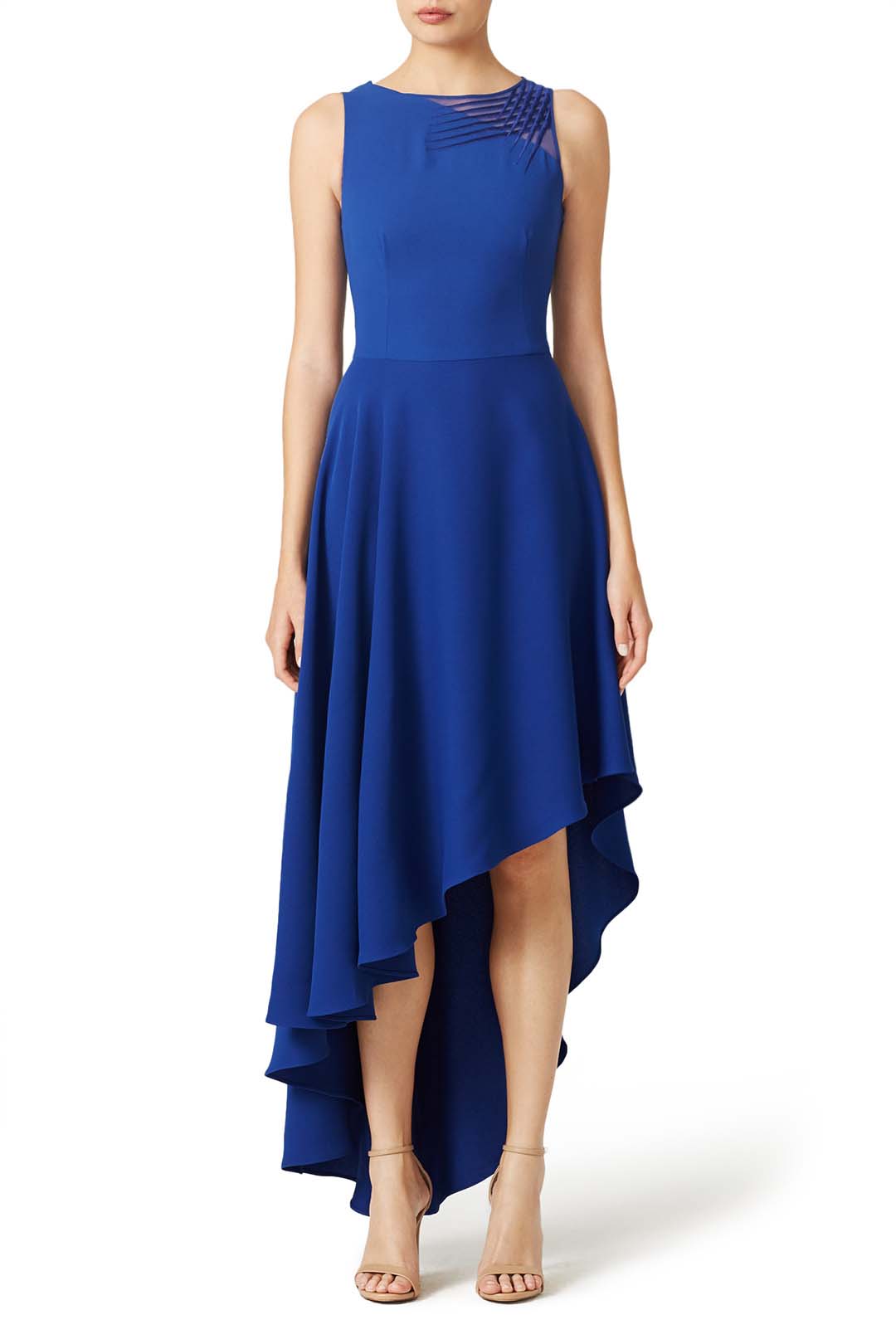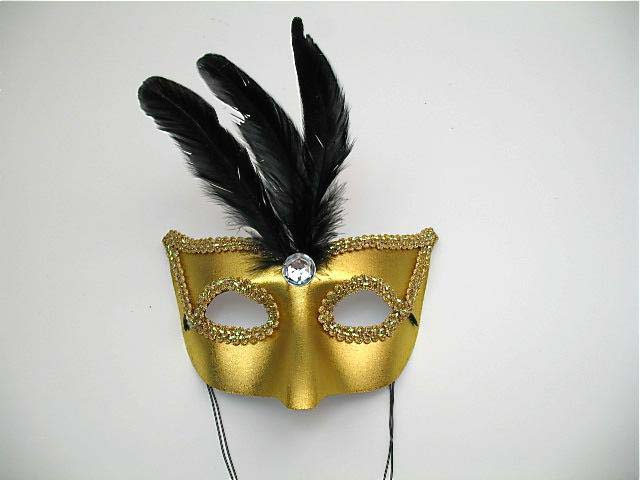 Cobalt-blue never gets boring, especially when it's shown off on a silhouette like this! Modern and fresh, the asymmetrical handkerchief hem is great if you'd prefer to go for a shorter gown without defaulting to 'casual' - and although it's not classically princessy like some ball gowns, the boat neckline combined with the fit-and-flare skirt makes for a figure-flattering style, hugging the ribcage and flowing out to give you a beautifully curvy shape. Sheer, geometric detailing at the shoulder and back give it a real Art Deco look that combines perfectly with its feminine shape to create a look that's a world of contrast. Keeping it true blue might be appealing, but how about this – the gold Genevieve feathered mask, simultaneously sharp-edged and decadent? These recurring juxtapositions are the hallmark of a truly fashion-forward mind.

Shop the look
Mask
---
Laundry by Shelli Segal – Silver Stream Gown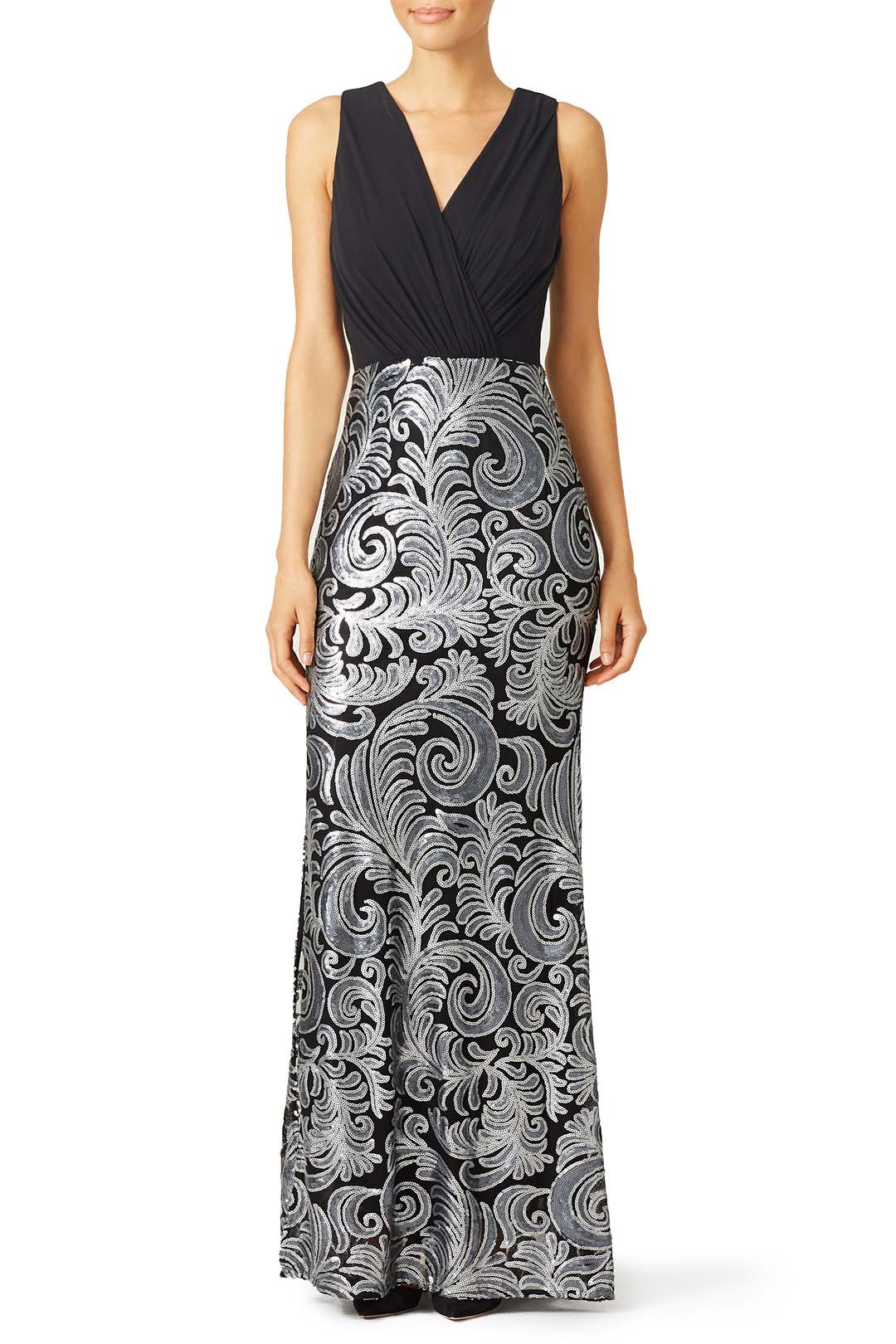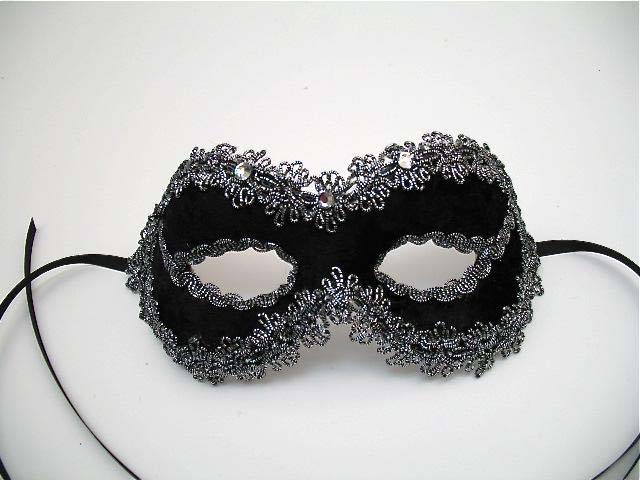 This striking metallic-toned gown will certainly turn heads – the innumerable Art Nouveau swirls spilling across the long fitted skirt and the neat black bodice make for a combination that's hard to take your eyes off. With a sleeveless, V-neck gathered-front top that flatters the bust and narrows the waist, the skirt with its glimmering sequins is free to shine subtly without being too ostentatious – and the tiny peek-a-boo cut-out detail at the small of the back makes for an alluring little surprise. Definitely a bold and beautiful look that doesn't scream for attention – but draws it nonetheless! It might not seem like the most obvious combination, but the lavishly bordered Linz masquerade mask, with its antique silver braiding, is much subtler – and much more fitting for this gorgeous gown – than a straight-up sterling option.

Shop the look
Mask
---
Badgley Mischka – Beauty in a Bottle Gown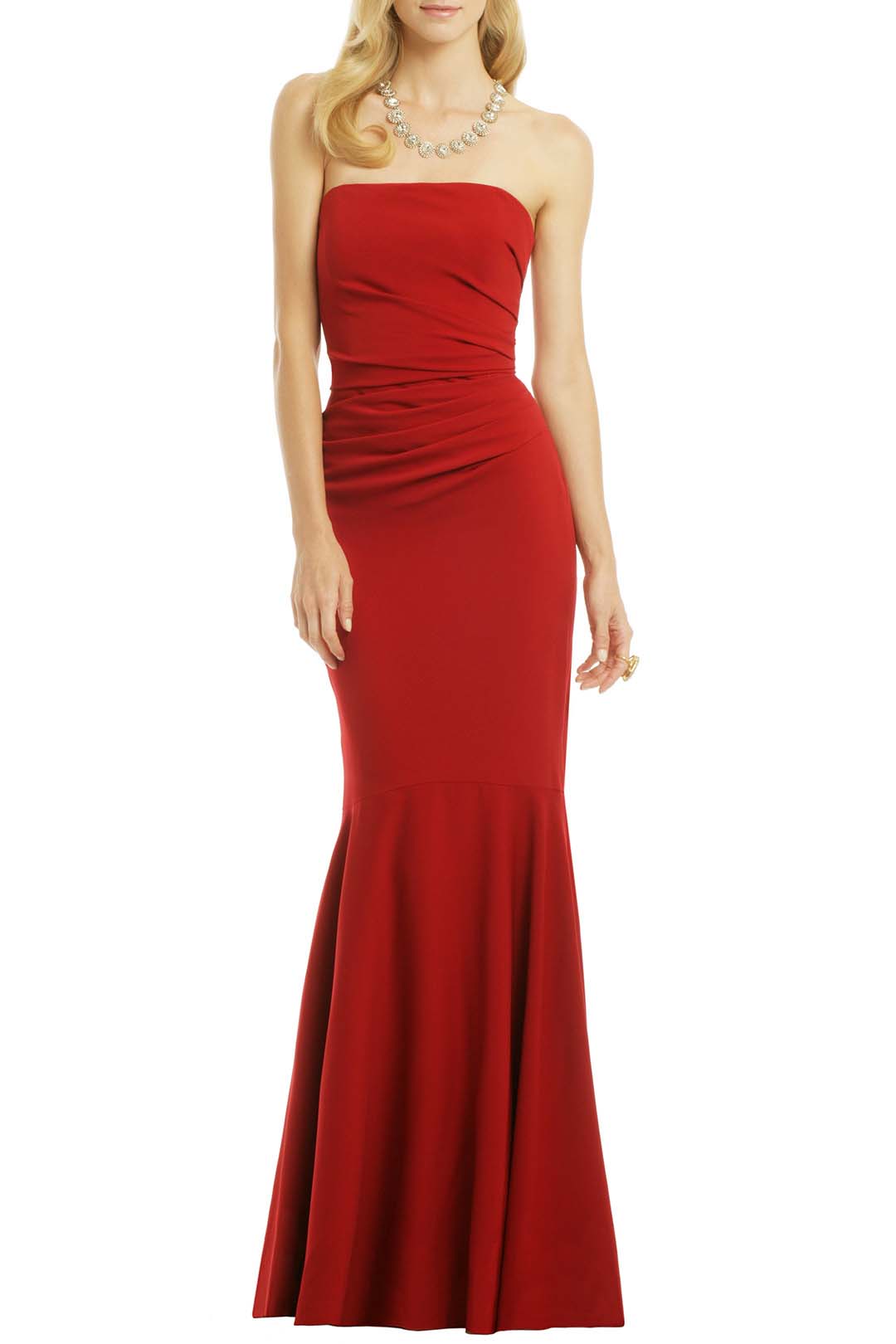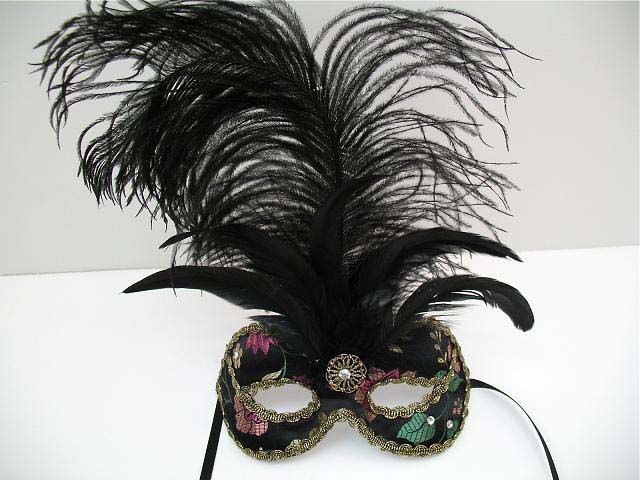 This slinky, sinfully sexy red dress is really something else. Its deep crimson tone and hourglass-enhancing shape might be read as bold, sure, but the beauty of it is that you don't have to flash your flesh to turn heads. In fact, aside from the strapless neckline, it's rather modest – and the boning across the bodice and ruched trumpet skirt belie any hint of a tummy that might make you self-conscious in other gowns. Great for an old Hollywood look or a modern-day siren vibe, beautiful hair and pretty shoes are all you need to complete this look – along with a mask, of course! In fact, there are so many options that would go perfectly with this gown that you'd be practically spoilt for choice – were it not for the Emiko feathered mask, whose crystal embellishments and flower detail are the perfect complement to the spray of black feathers it boasts and the restraint of the gown.

Shop the look
Mask
---
Jay Godfrey – Aqua Diamond Cut Gown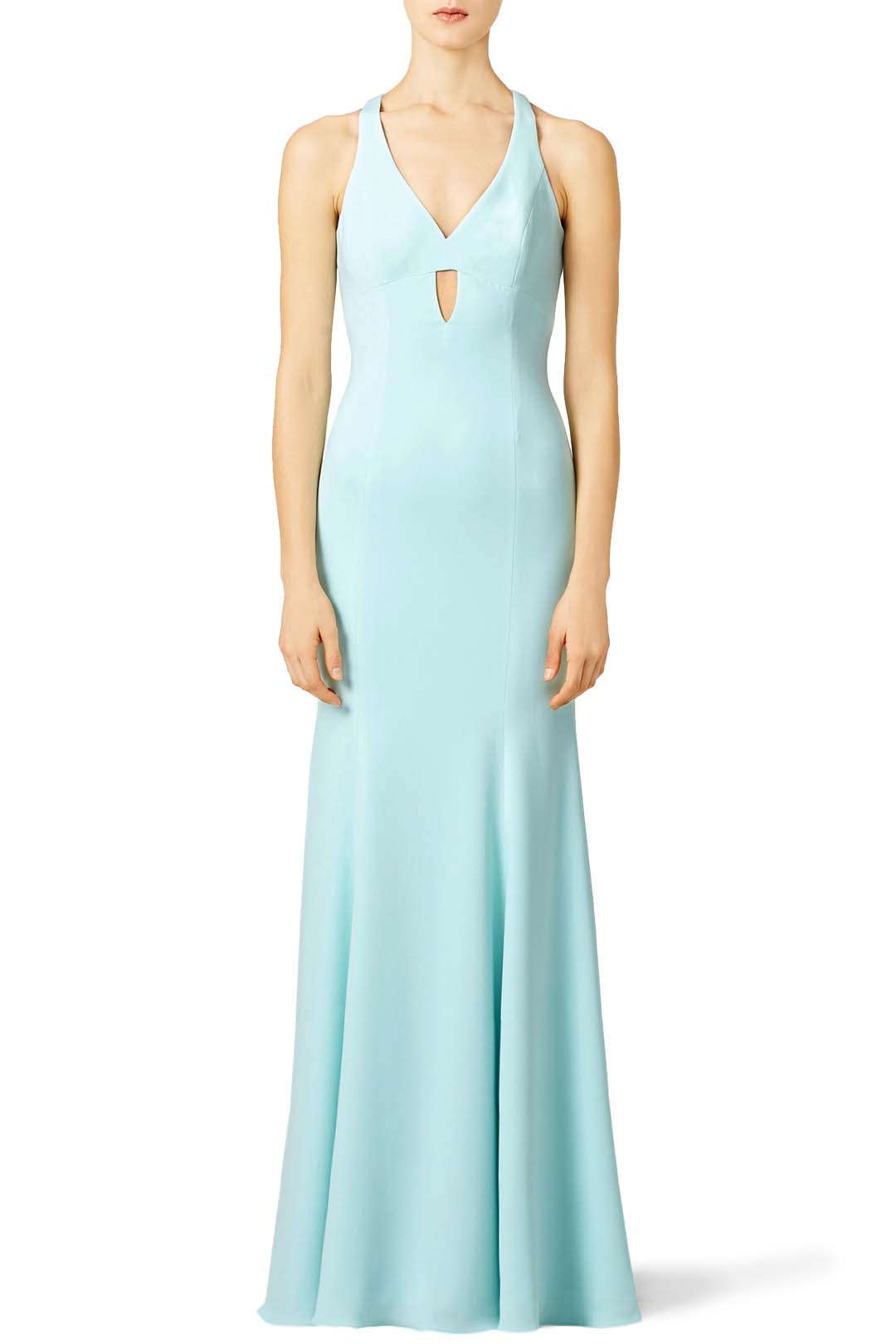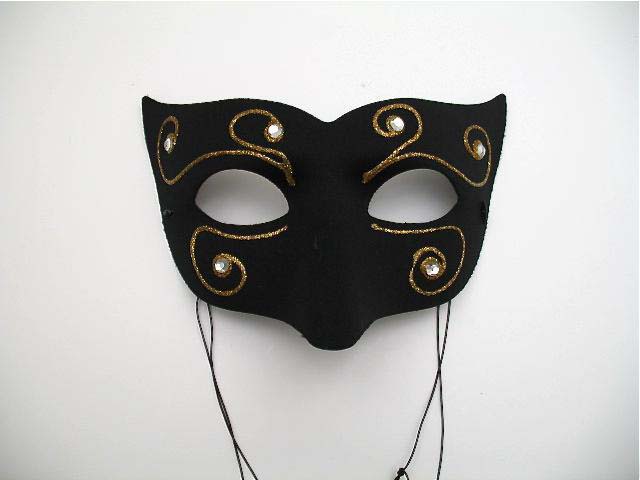 Those with warm skin tones will rejoice at this beautiful gown. Its romantic spring shade, long and lovely shape and tasteful yet alluring cut-outs are a sure winner – forget about dramatic black or deep purple for this masquerade, because nothing beats a crisply structured, form-fitting dress in aqua-blue that shows off a beautiful décolletage and an elegant neck. Chic and modern, it's a gown that will welcome long or short hairstyles and shining drop earrings; stretchy fabric and subtle piping make it comfortable to wear, and the unforgettable color isn't showy, but it might just steal the show anyway. It's so simple and pared-down that you won't want to wear a distractingly flashy mask – so may we suggest a black Amalfi Mardi Gras number, whose light gold piping is its one and only concession to extravagance, and whose geometric shape is a perfect match for this gown?


Shop the look
Mask
---
Nha Khanh – Noir Timeless Love Gown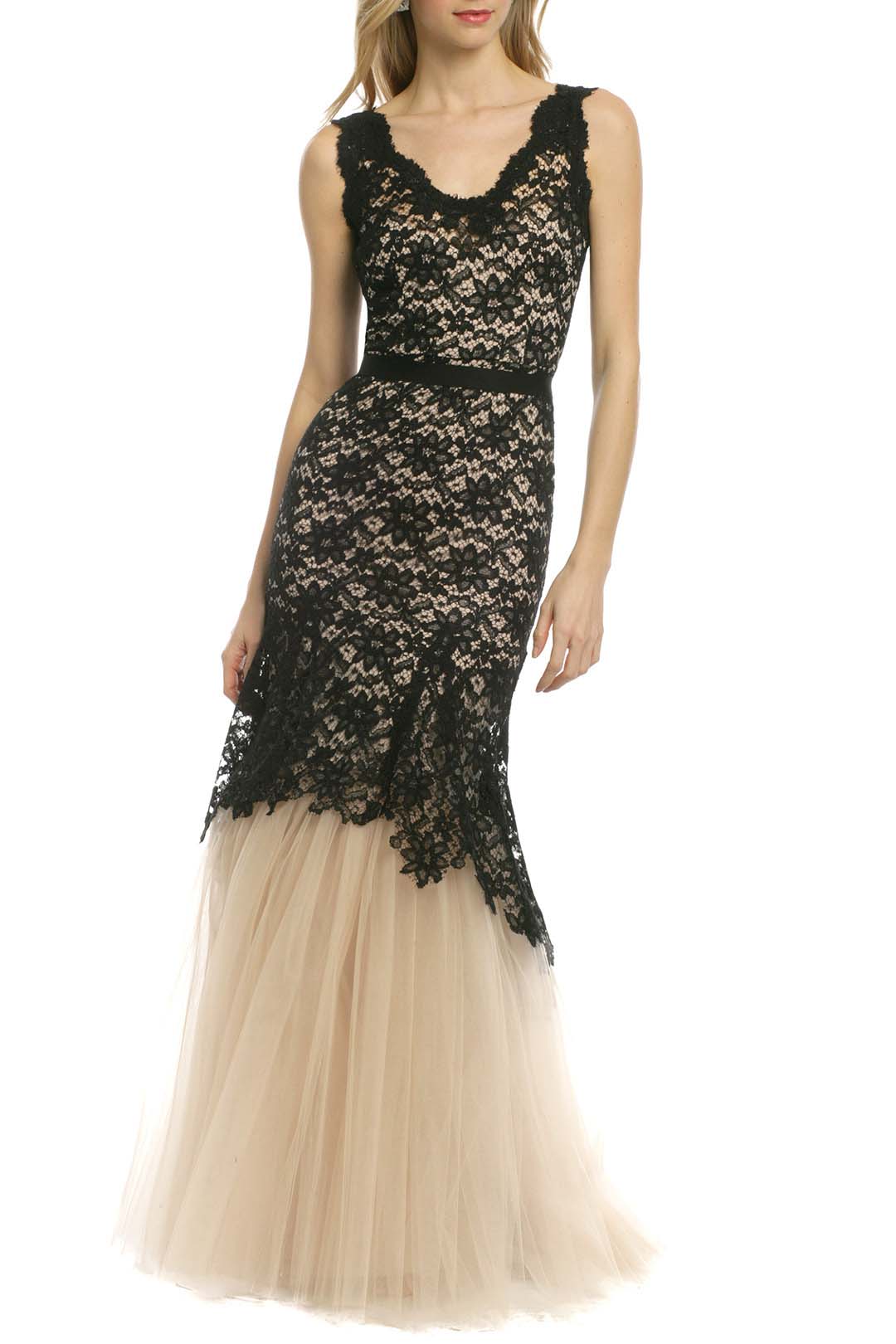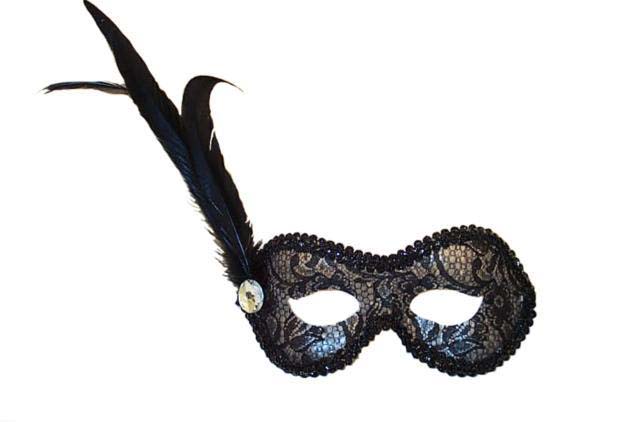 This gown strikes a perfect balance between 'ostentatious' and 'quiet' - it's neither! Black lace and a champagne-colored underlay that flares out to a beautiful trumpet skirt combine to make a look that's just a little sultry, but carries an air of maturity and mystique all at once – beyond perfect for a masquerade, where your face is hidden. The tightly patterned floral lace brings to mind a little something of lingerie, while the removable grosgrain belt can highlight an hourglass figure. Keep your hair and shoes simple with this one – it doesn't need fussy embellishment for it to shine! Since this is such a timeless gown – clue's in the name, right? - you'll want a classic mask to go with it. A black ballroom lace version, with subtle brocade detail and a few long elegant feathers, will do just the trick.

Shop the look
Mask
---
ML Monique Lhuillier – Sunshine Day Gown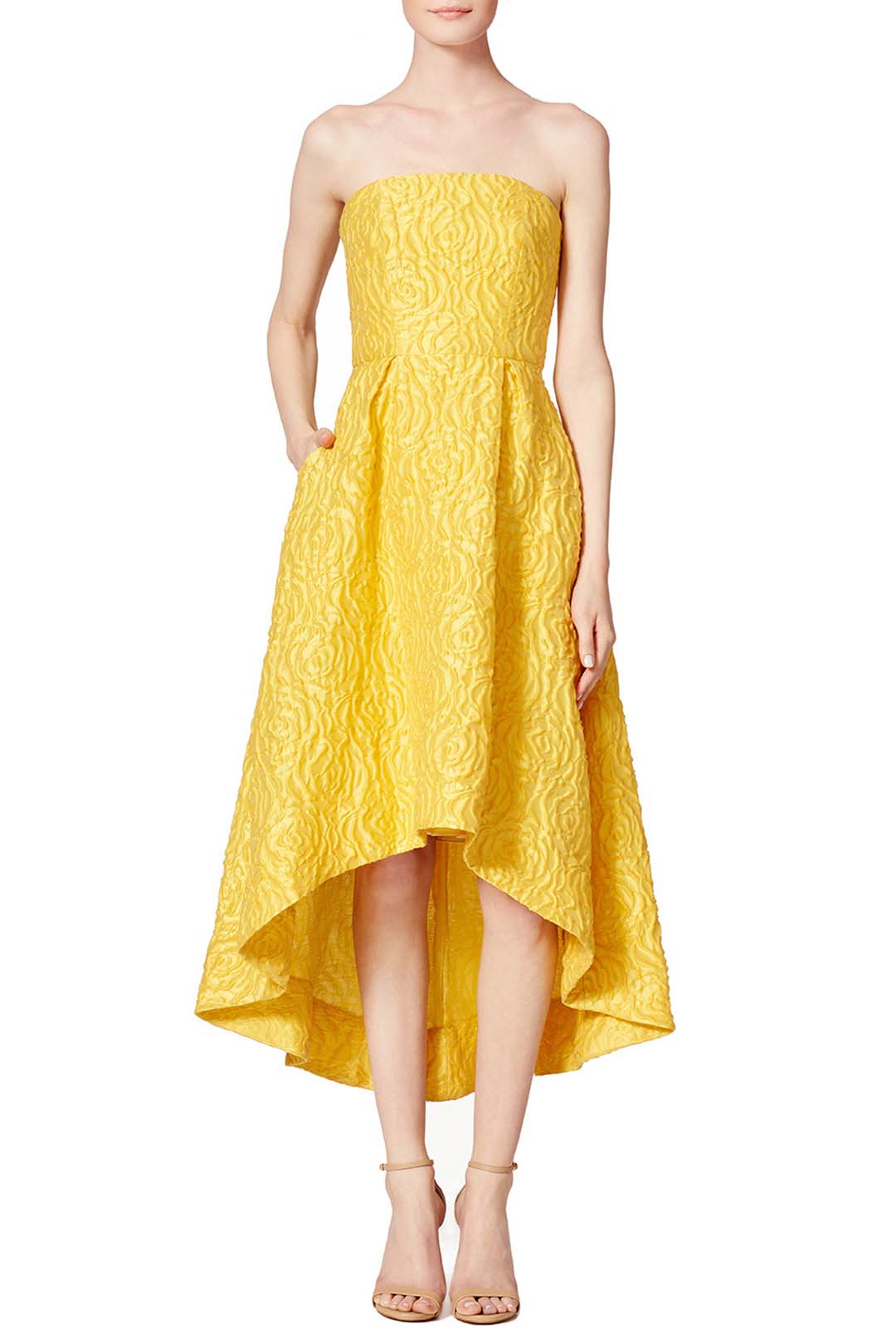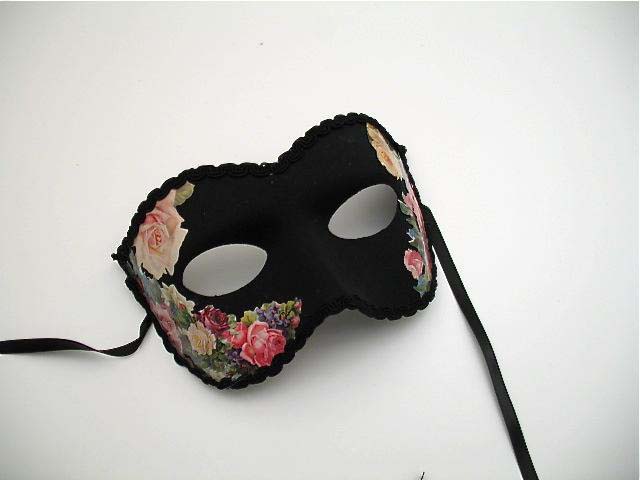 Yellow might seem to be an unusual choice for a masquerade, but if that's your first impression, think again – standing out among a sea of black, this gorgeous butter-yellow dress is sunshiney and striking, providing easy elegance without a hint of being casual. The very delicate, subtle rose-inspired patterning on the bodice and skirt make it shimmer under the light, while the high-low hemline will put a little flounce in your step, and the fabric looks formal without being heavy. The internal boning of the form-fitting bodice means there's no need for a bra, so the strapless look is preserved. Of course, such a pretty gown is going to need an equally pretty mask to go with it – for a romantic nature-inspired vibe, this black flowered mask, which looks almost embroidered in delicate threads, is a perfect option.

Shop the look
Mask
---
Slate & Willow – Gabi Dress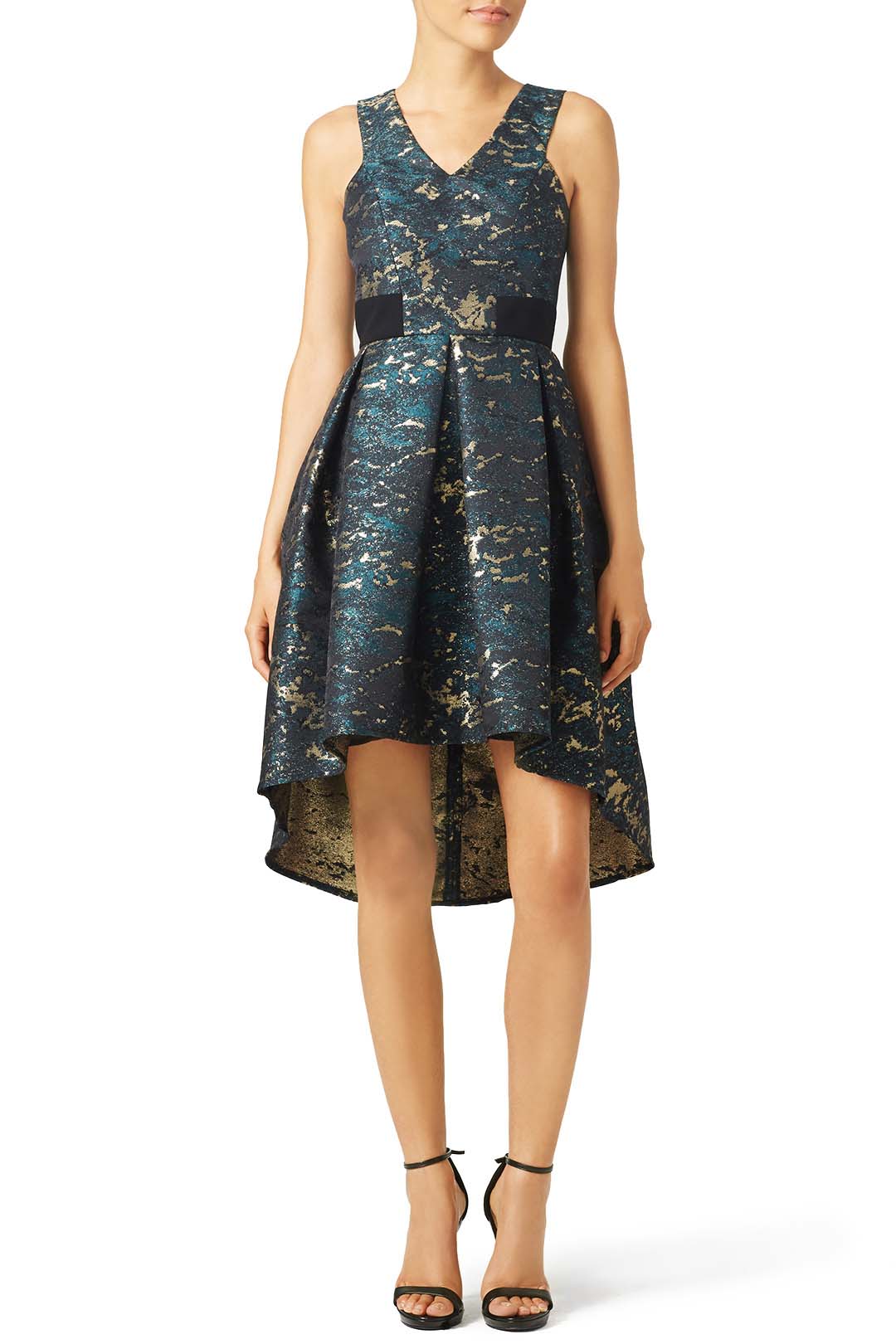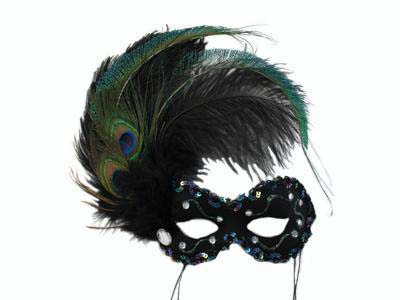 Not every masquerade gown needs to be floor-skimming or flouncy, as amply demonstrated by this gorgeous dress from Slate & Willow. Its beautiful teal and gold marble-inspired print is super-luxe, and will shimmer no matter the light. An asymmetrical hemline really adds to its charm, while strong boning holds you in around the bodice and smoothes out any unflattering spots. With its rich, multi-dimensional color and high-end jacquard fabric, it has just the right amount of mysterious allure – don't wear it if you don't want compliments! Perfect to wear with hair up or down and any shoes you choose, it'll be a beautiful choice for a masquerade ball. Speaking of which – the black jeweled Nadia mask is a no-brainer to pair with this dress. Its subtle shimmer will bring out the flecks of gold, and the peacock feathers are certainly unique.

Shop the look
Mask
---
Allison Parris – Grand Celebration Dress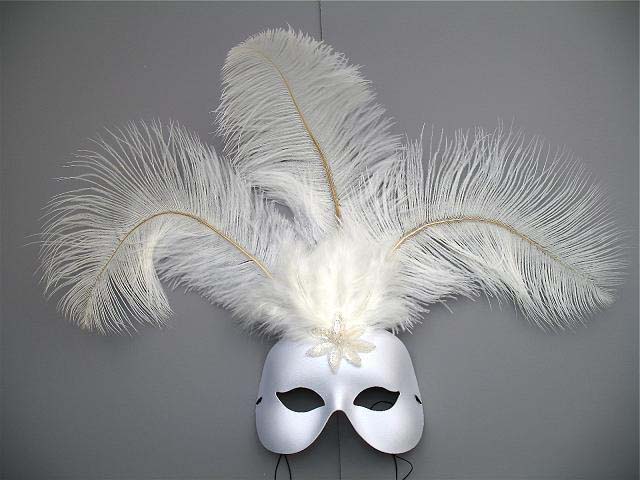 For a balletic, dreamy vibe, look no further than this stunning tulle gown. Make a statement and feel like a million dollars; ultra-glamorous and a little costumey, it's perfect for the mystique of a masquerade. A sleeveless boned bodice narrows the silhouette, while the flouncy, wafting skirt makes for a perfect contrast. Fun and flirty, but sexy and classy, its asymmetric hem and train impart fairytale charm, but won't draw attention away from a mask – and the princessy design gives it great movement on the dance floor, as well as standing out among dozens of copycat little black dresses. If you're stuck choosing a mask, why not go for a referential Swan Lake look? A white princess feathered mask provides an ideal counterpoint to the dark, dramatic dress.

Shop the look
Mask
---
Raoul – Prosser Gown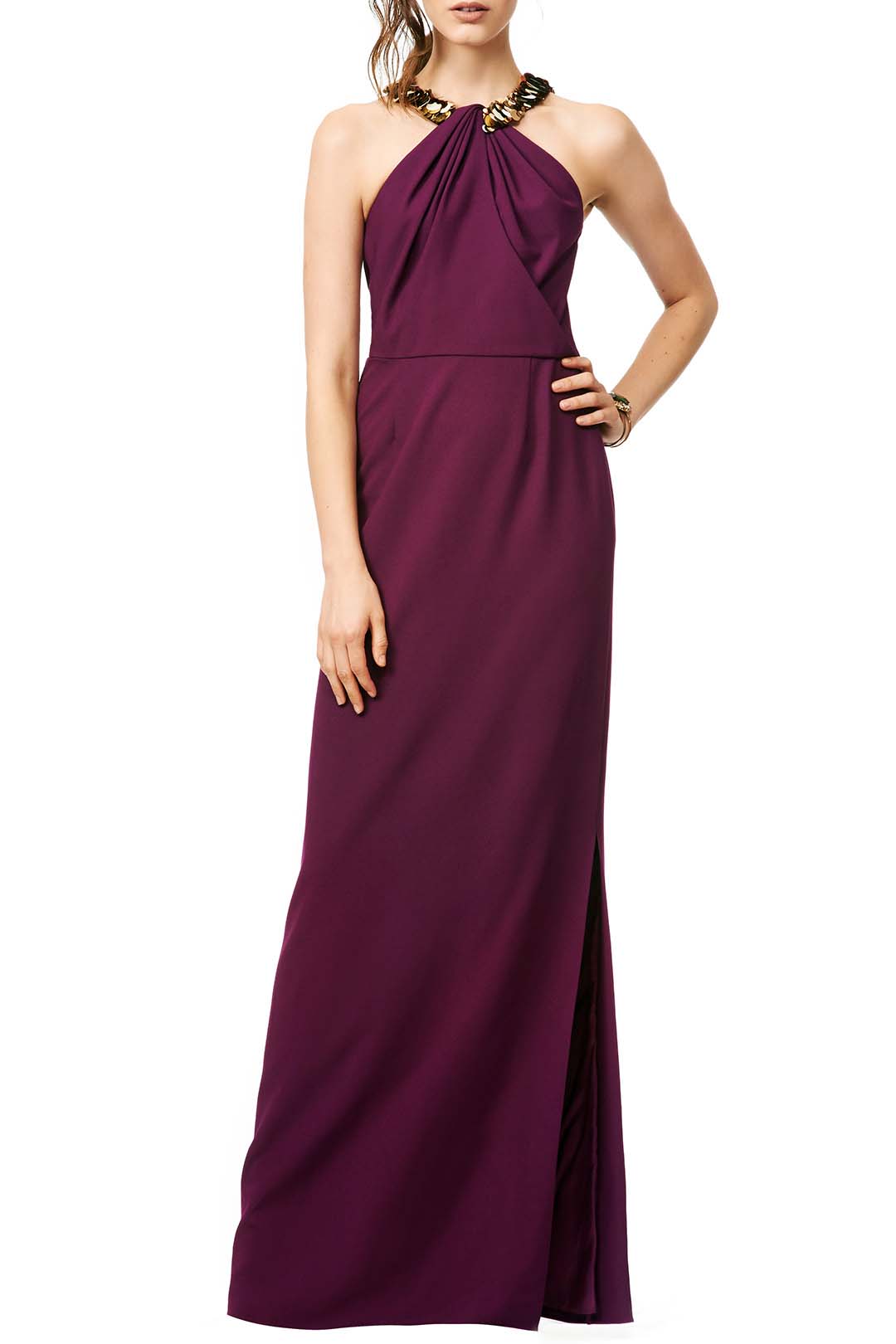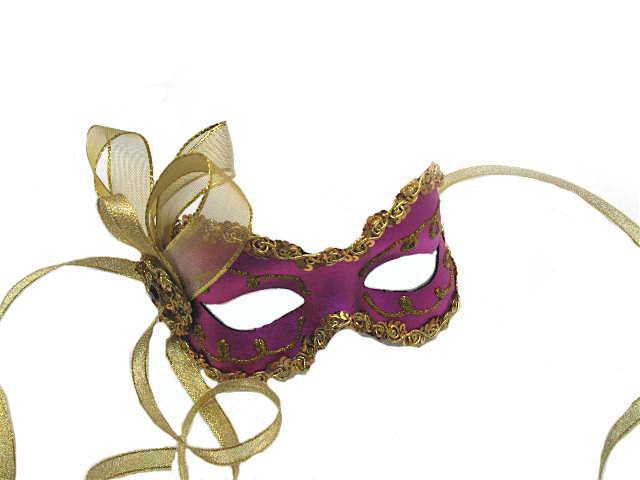 A 1970s-inspired look can be hard to pull off – but not with this deep plum halter-neck gown, whose rich color and easy-to-wear shape will flatter anyone. Its elegantly draped bodice is great for a long, lean outline, and the glimmering gold halter neckline is a nice touch that adds interest to an otherwise subtle dress. The fitted skirt is particularly nice, too – gracefully modernizing the slightly retro vibe. A stunning color on practically any skin tone, it's not flashy but rather tastefully understated. Wear with a simple updo for maximum effect, and try a little pair of kitten heels to elevate it just that bit higher. Without a doubt, this purple Angelina sequin mask is the way to go – matching perfectly with this gown, its gold detail only serves to emphasize a deep, unusual color scheme that will be among the best on the night.

Shop the look
Mask
---
Theia – Edinburgh Gown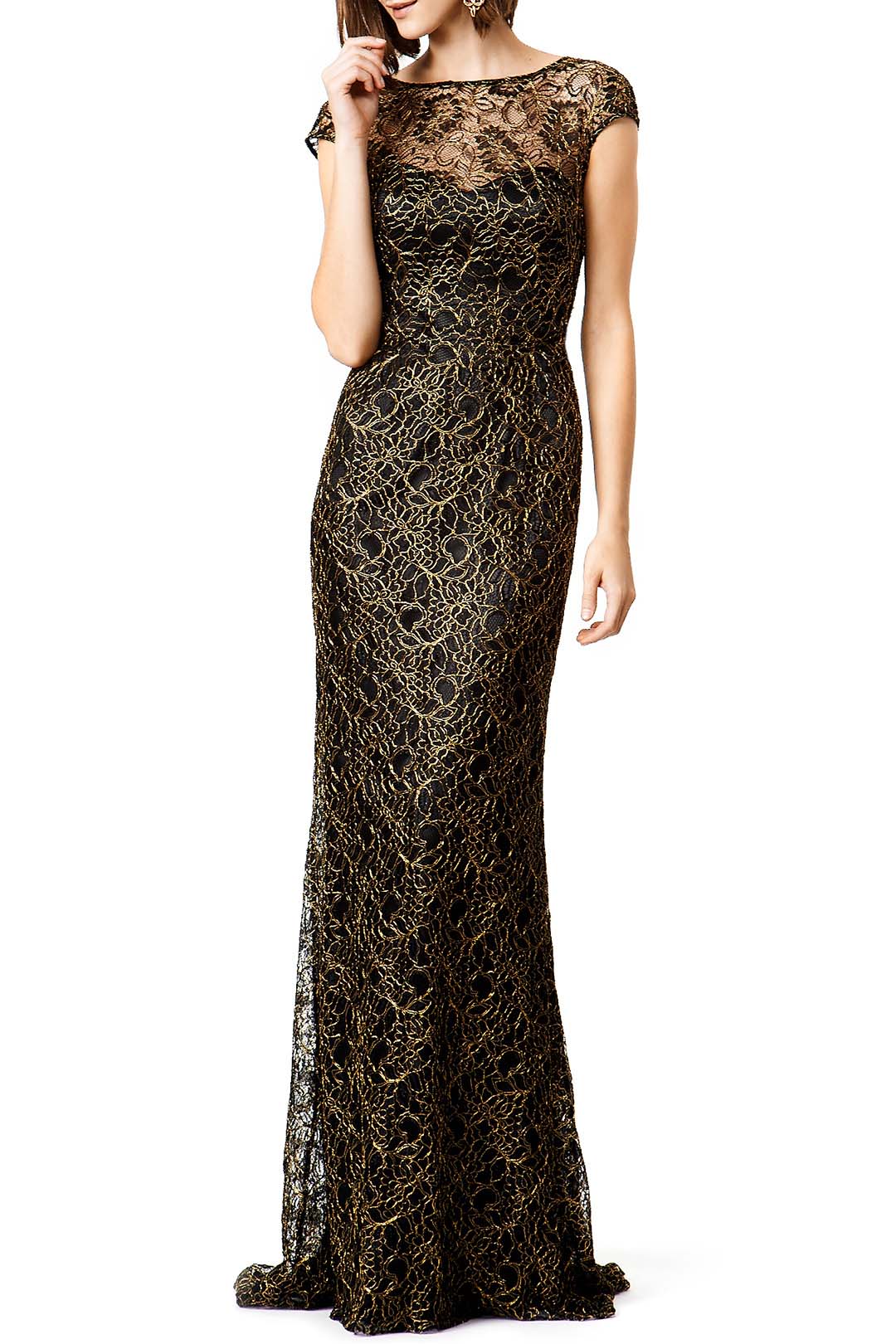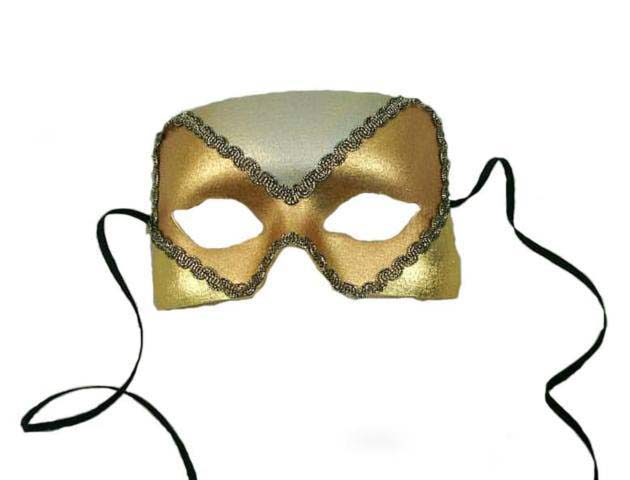 This stunning black gown, with its gold overlay, will definitely bring the drama. The boned cap-sleeved bodice and long fitted skirt streamline the silhouette for maximum impact, while the boat neckline seems conservative at the front – but at the back, it sweeps daringly down to the middle of the spine, exposing the shoulderblades and pinpointing an elegant vulnerability. Its subtle, leafy gilded pattern is reminiscent of the Renaissance masters' paintings – and you'll certainly feel like a priceless artifact in this gown. A pretty updo or a short, choppy hairstyle with plain flats are perfect pairings. With this dress's antique vibe, a Venetian-style mask is the obvious answer – the cream and gold Tuscany Venetian model with its gold trim is a no-brainer.

Shop the look
Mask
---
Nicole Miller – Lady in Waiting Gown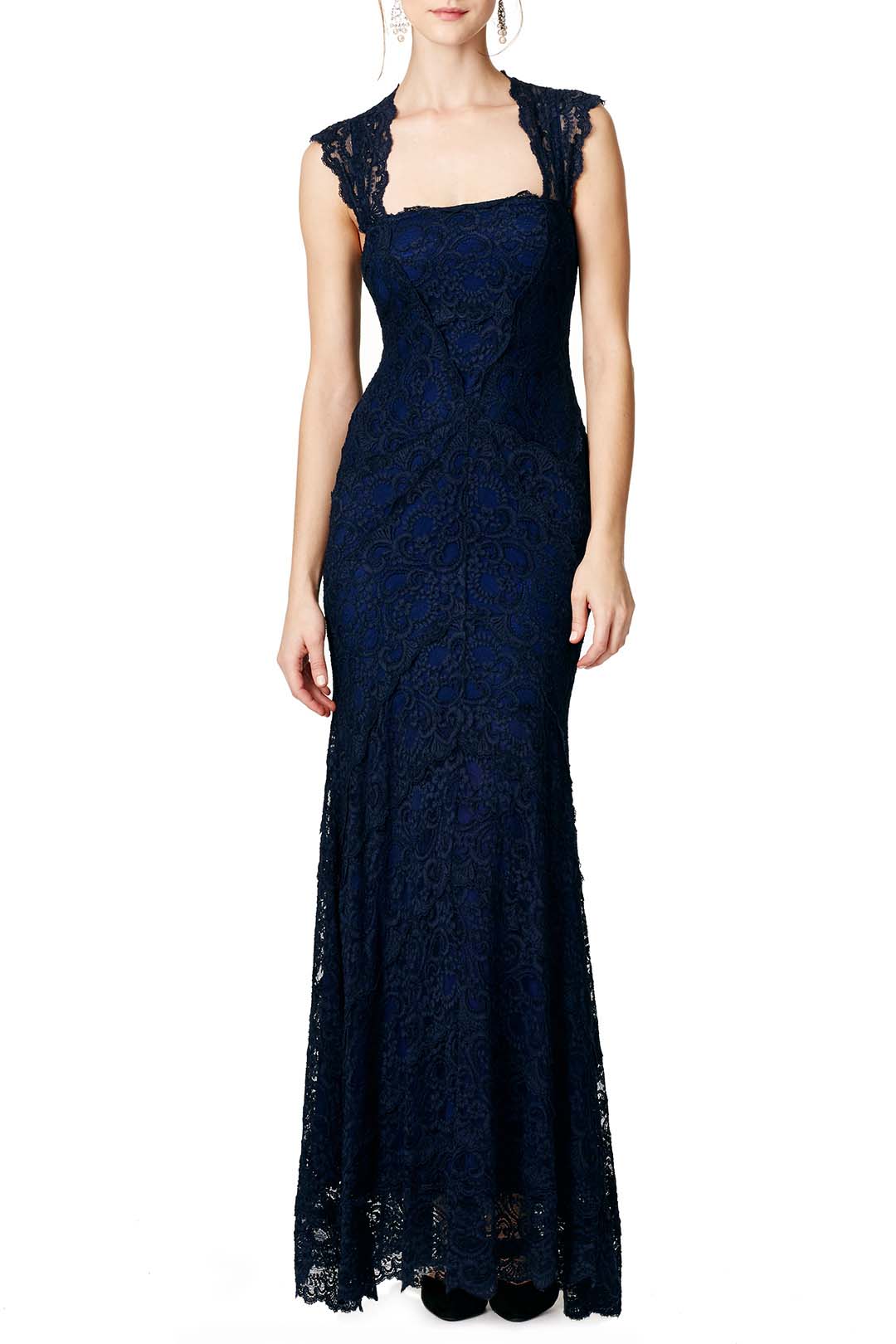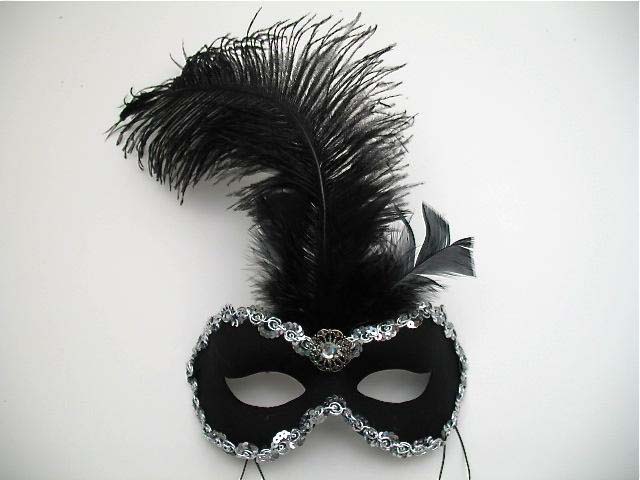 This gorgeous gown is a vision of gothic-inspired perfection. Its midnight-blue tone isn't too dark to shine under evening lights, and the clever, subtle black brocade lace patterning flatters the waist and bust. The classic feel and square neckline give it a hint of Elizabethan glamour, but the triangular cut-out back detail is undeniably modern – and imparts just the right level of allure. Triangular black lace straps emphasize a delicate décolletage, while a little flare at the bottom makes walking and dancing a breeze. Pair with an updo and shiny heels, and you'll glide. Midnight-blue and silver are a classic combination – so try out the extravagant black and silver Danube feathered mask, whose shape will accentuate the long, lean lines of this gown perfectly.

Shop the look
Mask
---
La Petite Robe di Chiara Boni – Olanda Gown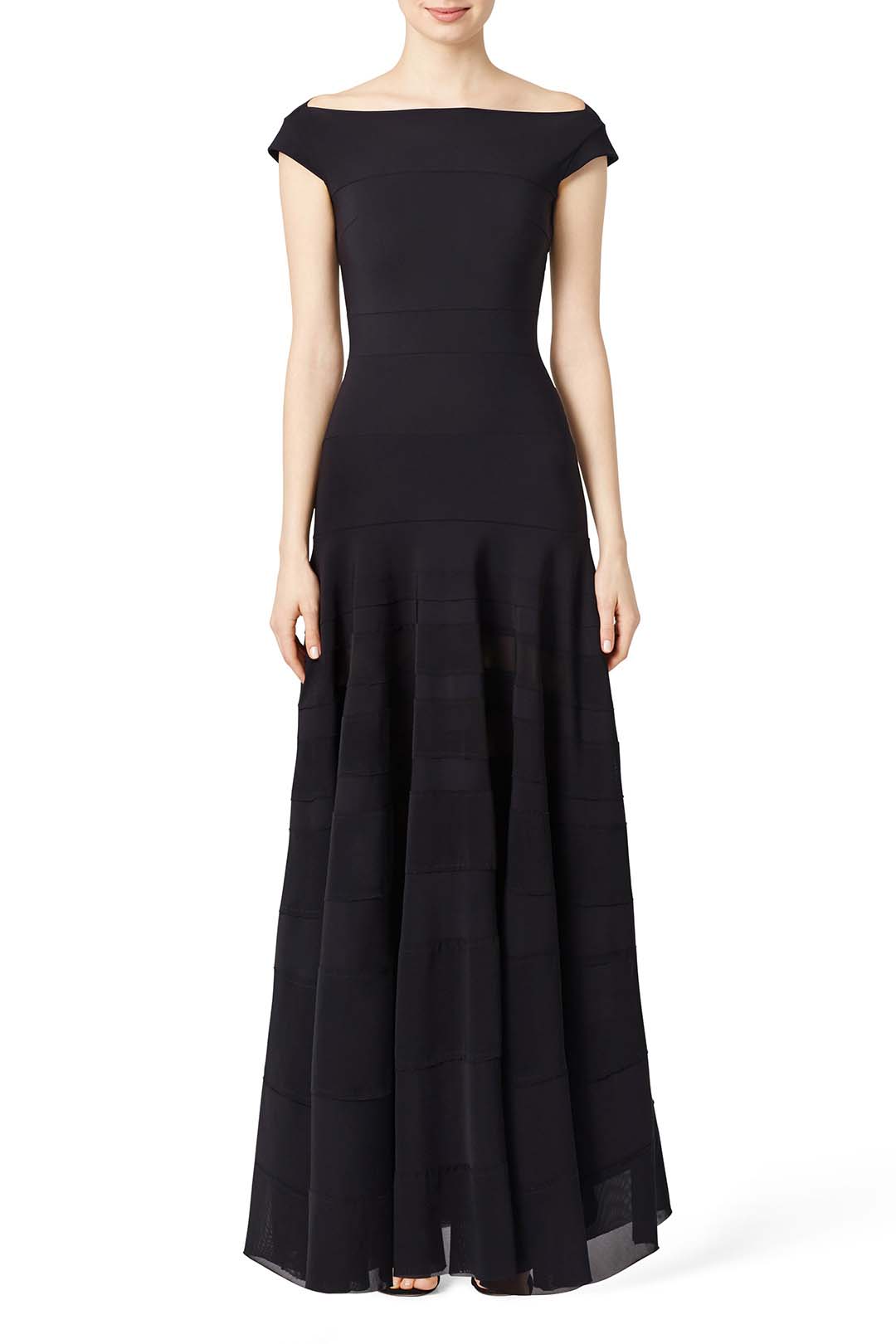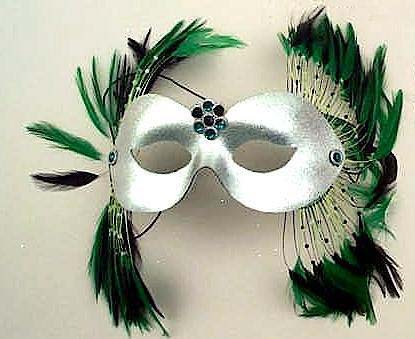 Here's an interesting proposition – a supremely flattering, long-lined V-neck gown with an illusion-effect trumpet skirt, whose sleeves sit just off the shoulder and emphasize the throat perfectly. Much more interesting than a plain black number, the long skirt is interspersed with slightly translucent sheer nylon panels, falling in folds to the floor and providing a pretty contrast to the fitted top. The dress itself hugs curves and pulls in the lines of the silhouette, and is a little bottom-heavy to give it a regal, flaring look. Subdued but sensual, it's a perfect choice, and will let your mask shine. You can wear almost any color with black, of course – so try out the daring combination of shining silver and emerald green in this feathered Odyssey mask for guaranteed glamor.

Shop the look
Mask
---
Marchesa Notte – Over Again Gown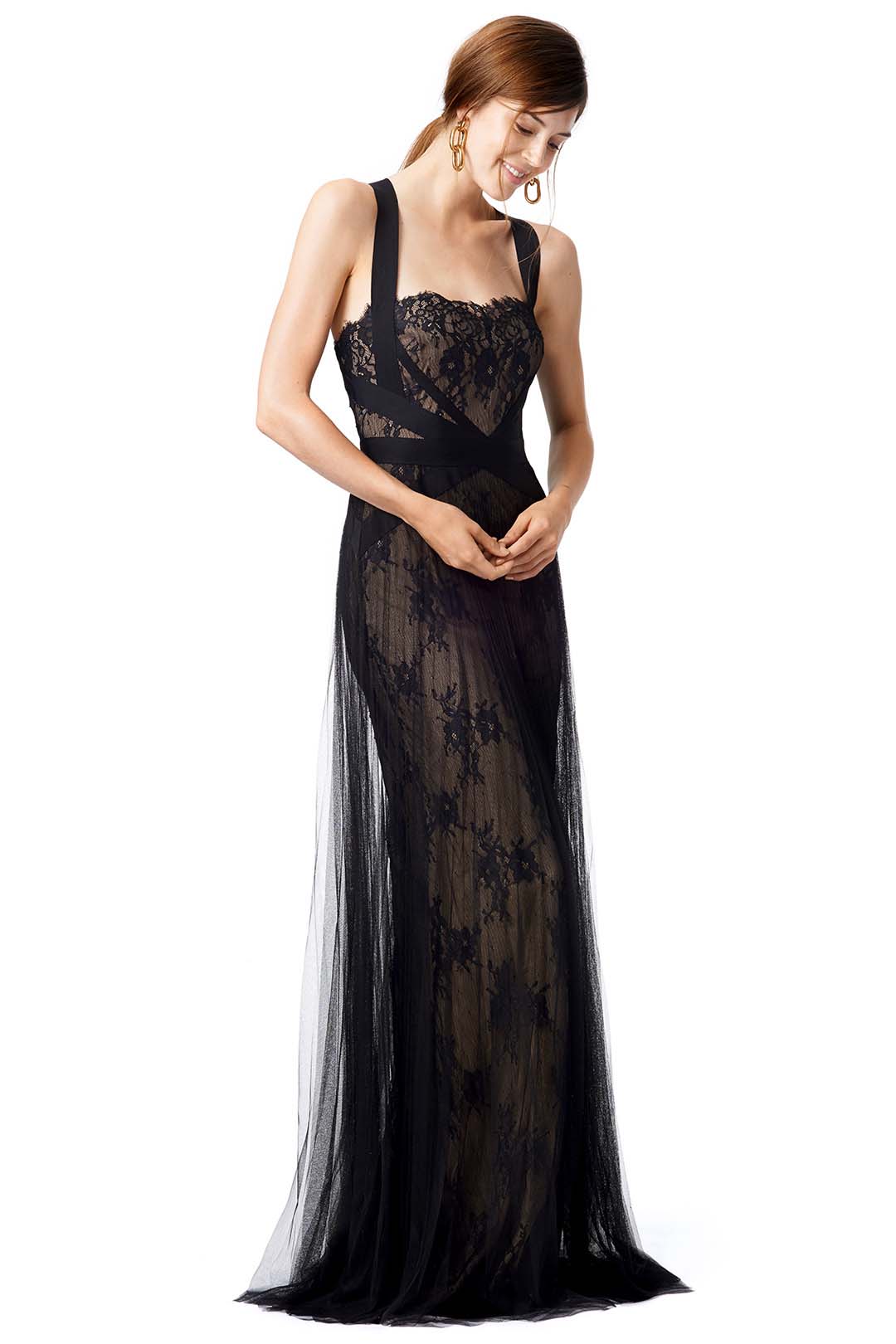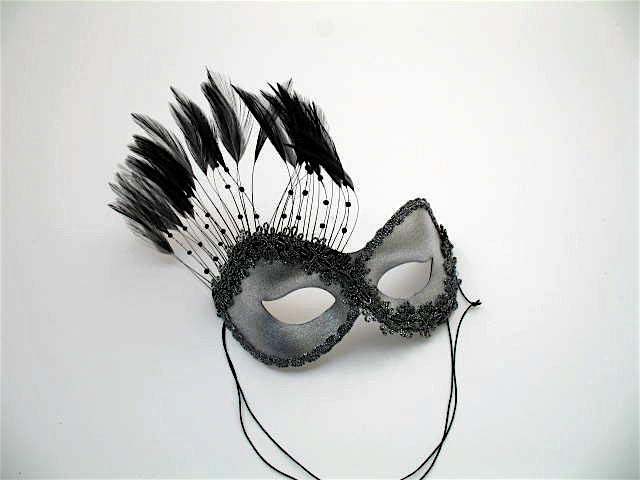 Want a perfect blend of hedonistic, lingerie-inspired lace and risqué geometric detail? You're on the right track with this beautiful Marchesa Notte gown, whose criss-cross back and waist straps and long, airy layers of tulle combine to make a memorable masquerade look. The sheer A-line skirt and its ribbon detail give this gown a delicate feminine touch, but the opaque black straps around the bodice are entirely modern. Plenty of dresses offer floral lace, but the intricate patterning that adorns this one is unique – and tasteful to boot. A little gothic, with a lovely flow when walking or dancing, this gown's flirty but restrained air of mystique goes great with any mask. Here's one we recommend, though – a silver feathered number whose delicate, one-sided spray of feathers will elevate any gown to the sublime.

Shop the look
Mask