Posted by Fantasy Costumes Staff on 14th Apr 2016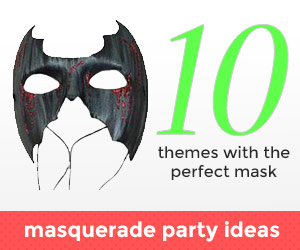 Planning a masquerade party but out of ideas? Here are our favorite themes!
So you want to throw a Masquerade ball? Whether you're hosting a fancy ball or a mysterious gathering, you have a lot to think about in the planning process, but the most important thing you need to do is decide on is a theme. If you want to have a cohesive party where everything feels like it fits together, it is important to establish a theme before you begin any other planning.
You may be thinking " Masquerade is already enough of a theme, why do I need to complicate it?" Well, to answer that, read below to see some of our theme suggestions and you will realize how badly you want to throw one of these parties. To make things even easier on you, we've matched masks from our hundreds of masquerade masks.
Animals/Jungle Themed Party
Shown: Black and gold cat mask
Why would you want to just wear any old mask when you can wear one that makes you look like a cat? That seems like an obvious choice. Why not get everyone to pick an animal face mask and have your decor give the party a jungle feel? People will have to be a little more creative and get to dress up in fun costumes while also wearing a mask. They entire purpose of a masquerade is to pretend you aren't yourself, so the easiest way is to pretend you are another species!
Superhero Masked Ball
Shown: Backstreet bat mask
Superheroes aren't just for comic book fans anymore. With the amazing movies that come out every year, comic books are a bit more main stream. Why not embrace the geek culture and throw a mysterious super hero themed Masquerade? You can still make it as a formal dress up affair. People can creatively adapt the usual costume colors and dress them up a bit with some clever details that capture the essence of their chosen superhero. You may also end up with a few well dressed villains, but you can be sure they will stay in line with a room full of vigilantes.
Disney Masquerade / Wedding
Shown: Angelina sequin mask
Many people spent their childhood watching Disney movies, and a lot of us still watch them even now that we are older. Disney continues to make hit movies year after year, like Tangled, Frozen, Big Hero Six and more. Why not let the kids take a break from dressing up like Elsa and give the grown ups a turn? If you instruct your guests to dress up like their favorite Disney characters, you are guaranteed creative costuming and nostalgic memories. The mask shown here can also be dressed up easily with a fancy masquerade gown or dress.
Movie / TV Themed Costume Party
Shown: Black Zorro style mask (you probably guessed that)
Not a Disney fan? No problem! There are millions of movies out there and chances are your guests each have a favorite. Let them express their desired characters with unique and individual costumes while you decorate the room like an old fashioned movie theater. Popcorn stands and red carpets will really enhance the theme and feeling of the whole party!
Grecian Theme / Toga Party
Shown: White feather ballroom eyemask
Want to take your party to another millennium entirely? Why not venture back to Ancient Greece and have a Masquerade Toga party! Costumes are easy so no one has any excuse to skip out on the theme. You could even set up a "Wrap your Toga" Section at the party right at the door for those who aren't sure how to get it just right.
Venetian, Italian Renaissance
Shown: Venetian white and gold operetta mask
If Greece isn't your thing, maybe take a trip to Italy with a Venetian style party. Elegance, romance, and drama, the venetian theme can be a really glamorous affair. You will feel like you are living in an opera as everyone wears their finest gowns and fanciest suits while sporting intricately designed masks.
Color Coordinated (This is the Easiest)
Shown: Pink persuasion feathered mask
Pick a color, any color! Whatever the reason you are throwing the party for, whether it is for a charity, birthday, or any other type of party occasion, there is likely a color that would be deemed perfect to represent the evening. Celebrating a friends birthday? Chances are they have a favorite color that you can get everyone to sport. Charity event? The color of the logo would be a great tie in for the evening. It makes the decor easy to match and gives everyone an easy starting point for their outfits.
Circus / Mardi Gras Masquerade
Shown: Nadia feathered mask with jewels
The circus is a perfect theme, it gives such a variety for your guests to choose between. They can dress either as circus performer, a circus animal, or even if they can't think of an entire costume they can just be an audience member. Bonus points for the couple who picks the costume of the Lion Tamer and the Lion. Skip the animal costumes, add some beads and you've got yourself a Mardi Gras ball!
1950's - 1990's "Decade" Themed Parties
Shown: Holographic fashion mask
Endless options if you choose to go with a time period. You can do a classic 50s theme where everyone dresses up with glamour curls and slicked hair, or a hippie 60s party with psychedelic colors, or why not try a futuristic theme with a lot of silver and robotics? So many possibilities to impress, and as a bonus also it gives you a built in playlist for the party!
Halloween Monster Theme
Shown: Drainage face mask in red
Halloween is already an excuse to dress up like scary monsters, why not make your masquerade just a little more spooky with some creepy decorations and villainous characters. People will enjoy taking a different approach to some of their favorite monsters. Encouraging creativity might let some of your guests uncover talents they never knew they had.
5 Tips for Planning the Perfect Themed Masquerade Party
Inform guests of the theme from the start.
Nothing is worse than finding out a week before the event that your entire outfit plan is not appropriate. Give them enough time to enjoy the process of making their costumes and really get creative with the theme.
Make your decor match the theme.
Don't waste time suggesting a theme if you aren't going to keep it up yourself. Keep your theme consistent through the decor and any activities you have planned.
Have all staff at the event participate in the theme.
There will be some restrictions if there is people cooking, but if at all possible have any DJs, Photographers, Waiters, etc, be a part of the experience. People wont put effort into their costumes if the people running the show don't.
Give your guests suggestions for costumes.
If your theme is too broad they may get overwhelmed. Don't be afraid to have some ideas for costumes listed on the invite or event page so that those who aren't necessarily a big fan of theme parties have any excuses not to participate. Some people work best with structure, and it can also be a little bit intimidating walking into a party in a full costume unsure of what everyone else is wearing. Be vocal and open with your guests so no one has any anxiety about their costume.
As the host you should embrace your own theme fully.
Even though you might have a lot of running around to do at the event, it is important to take time to show you are also having fun with the theme.