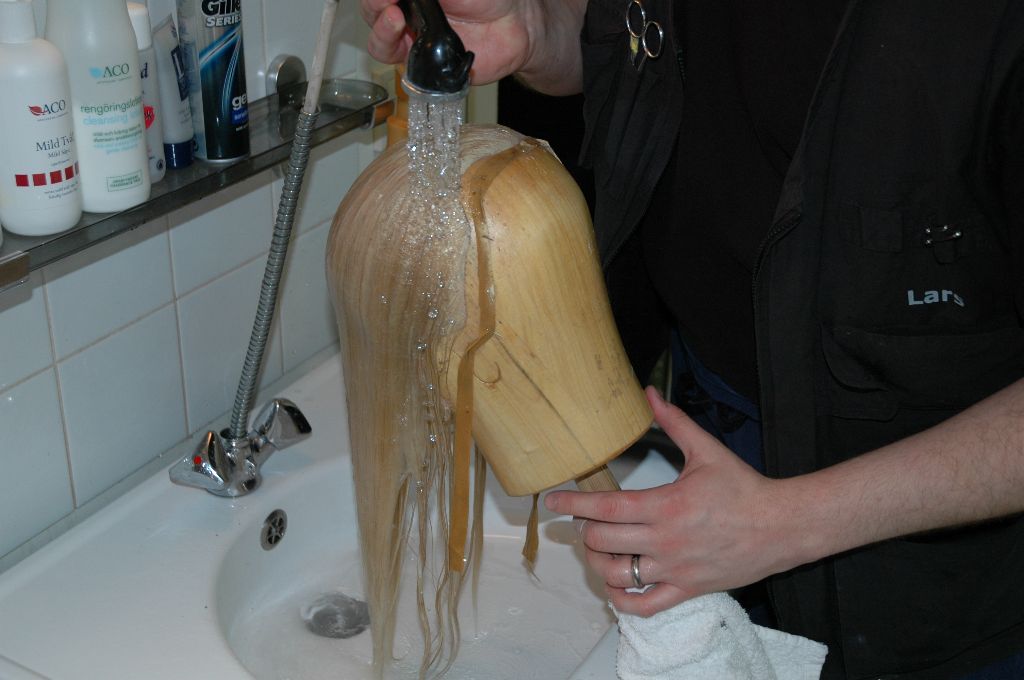 Human hair wigs look more realistic than ever. But in order for them to retain that look, they require regular maintenance.
Human hair wigs are known for durability and resilience, so if you take care of your wig you should avoid any major problems. Human hair wigs that are well cared for typically last at least a year. Ensure your wig stays in great condition by properly washing it and storing it.
Preparing a Human Hair Wig For Washing
Before you wash your wig, make sure you comb it thoroughly. It should be completely free of tangles. And make sure you use a comb that's made for wig applications. Standard combs can damage your wig. Once you've combed out all the knots, you're ready to wash your wig.
Avoid Hot Water When Washing a Human Hair Wig
When you wash your human hair wig, temperature is key. Use water that's between cool and lukewarm, but don't worry if the water is a little warmer than room temperature; it shouldn't damage the wig. The key is to stay away from hot water. Before washing your wig, lightly rinse it with water.
Washing a Wig is Different Than Washing Hair on Your Head
Invest in a high-quality shampoo that's made specifically for human hair wigs. Apply only a small drop of the shampoo, and be careful not rub the cap of the wig as you would your scalp. Gently comb the hairs on the wig from top to bottom with the shampoo, but do not scrub them.
If your wig is short, you may be able to wash it in the sink. If it's longer, you may need to utilize the additional space in your shower or bathtub to wash it. The extra space will also help prevent knots from forming while you're washing your wig, regardless of its length.
Conditioning Your Wig Will Help Keep Out Knots
Just like with the shampoo, it's critical to use a conditioner that's made for human hair wigs. After washing the wig, you'll want to dry it some before applying conditioner, but the wig should still be damp.
Leave the conditioner on the wig for between three and five minutes. After that, use cool water to rinse the conditioner out thoroughly. Once you're done rinsing the wig, carefully squeeze it to do away with any water that may be lingering.
Human hair wigs are not immune to the headache of tangling, but conditioner can help keep your wig from knotting while you're wearing it.
You should aim to wash and condition your wig at least once a month, but it doesn't hurt to do it more frequently; it generally depends on how often you wear it. Use your best judgement, and make sure you don't overdo it.
Take Care of Your Wig When You're Not Wearing it By Storing it Properly
You should never carelessly leave your wig laying around anywhere. If you don't store your wig properly, you risk damaging it in unforeseen ways. Remember, human hair wigs can cost a lot of money, and replacing one can be a hassle.
One way to ensure your wig is safely stowed away is to purchase a mannequin head or wig stand. Either one is suitable for people who are looking to store their wigs on a daily basis, such as at night when it's not being worn.
If you plan to store your wig for a long period of time, you may want to use a more permanent storage solution. If you kept the original packaging for your wig, you may can use that. If you no longer have the packaging, buy a wig storage container. Just make sure you get a container that's not easy to flatten or crush.
Once it's inside, make sure you put the storage container somewhere that's completely dry. Try and also find a place that's not too cold or hot. If you store your wig properly, it should stay in excellent condition for several years.
Don't Risk Damaging Your Wig Trying to Fix It
Fixing some issues on your own is simply not an option. If you run into a problem you're not equipped to handle, it's best to seek out professional assistance at a store that specializes in wigs -like us. Our experienced and knowledgeable staff can help with all wig-related issues.