Posted by The Fantasy Costumes Staff on 12th Dec 2017
There are only a couple months a year that you get the opportunity to see homes, parks and commercial corridors decked out in holiday lights. Whether you're looking for somewhere in the city that's easily accessible by public transportation, parks with lights strung up through trees or a suburban neighborhood with dedicated holiday decorators, the Chicagoland area has plenty of spectacular light displays to see. Check out the list below for some of the best and most popular locations.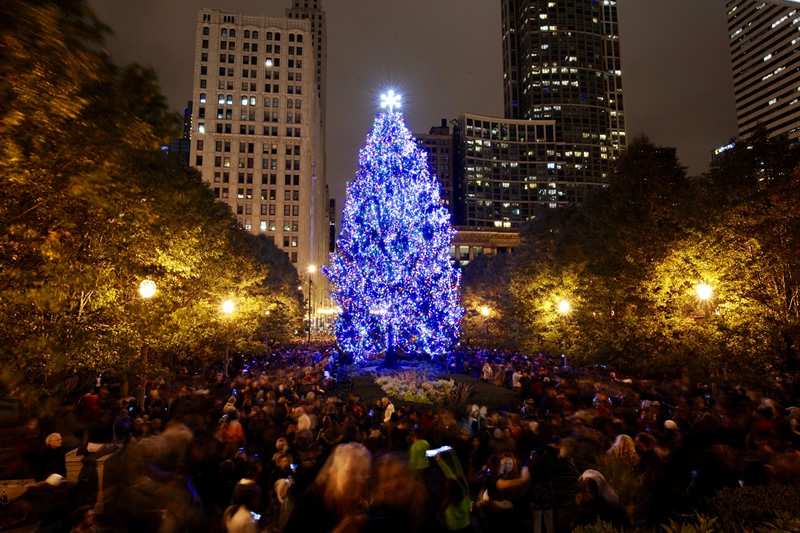 Millennium Park
This year marks the 104th Anniversary of Chicago's official Christmas tree lighting ceremony. Every year, a unique tree is selected and put up in Millennium Park along Michigan Ave. This year's tree is a 62-foot tall Norway Spruce. It was donated by Darlene Dorfier, a resident of Greyslake, Illinois. The tree, which was officially lit up on November 17, will remain lit throughout the holiday season.
Where:
201 E Randolph St. (Near Michigan Ave. and Washington St.)
Chicago, IL 60601
When:
Through January 6
Cost:
Free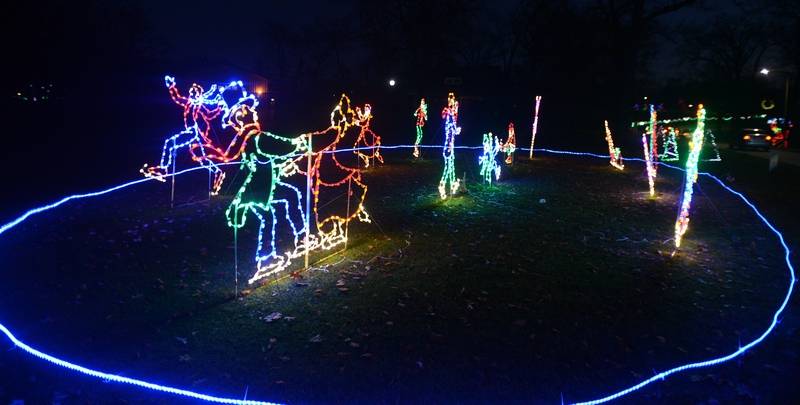 Aurora
This year marks the 11th year Aurora has held it's annual Festival of Lights. It will feature more than 420 displays, and this year there are all new dancing arcs and a 20-foot sign for the Weisner Ice Rink. The Festival of Lights is designed as a drive-through display that runs more than a mile through Phillips Park in Aurora, so you can enjoy the entire thing from the warmth and comfort of your car.
Where:
1000 Ray Moses Drive (Phillips Park)
Aurora, IL 60505
When:
Nov. 24 to Dec. 26, Sunday-Thursday from 5-9 p.m. and Friday and Saturday from 5-10 p.m.
Cost:
Free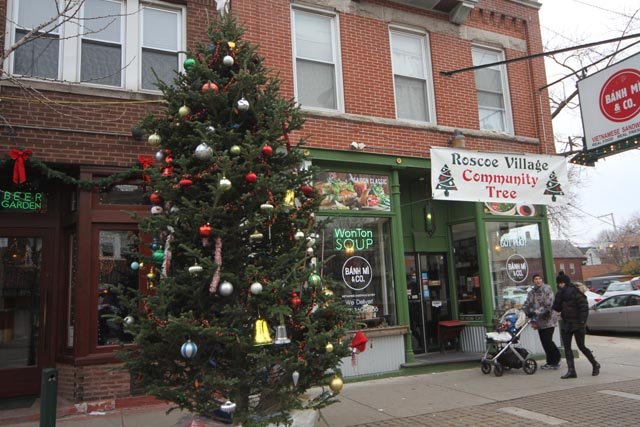 Roscoe Village Neighborhood in Chicago
The residents in Roscoe Village take their holiday decorations very seriously. Every year, the Roscoe Village Neighbors, a nonprofit organization that leads several initiatives to improve the neighborhood, holds its own holiday decorating contest for both businesses and homeowners. The neighborhood also hosts an annual Winterfest event featuring caroling, horse-drawn sleigh rides, trolley rides and an appearance from Santa. For those without a car, you're best bet is the take the CTA Brown Line to the Paulina stop and walk around the neighborhood.
Where:
Roscoe Village is just West of Lincoln Ave. on Chicago's North Side. It's bounded by Belmont Ave. to the South, Addison St. to the North, Ravenswood Ave. to the East and the Chicago River to the West.
When:
Lights are typically on display throughout December.
Cost:
Free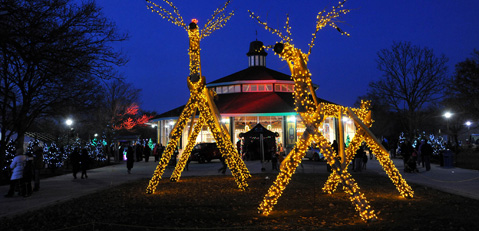 Brookfield Zoo
This Brookfield Zoo Holiday Magic lights festival has been around for 35 years. It features more than 1 million lights, a 41-foot tall talking Christmas tree, and animal-themed light displays - including giant reindeer. In addition to the lights, there is a train display, Christmas carolers, a 20-foot tall light orb that's good for photos with friends and family and many other special holiday festivities. For dates and times on the additional activities, including Santa appearances, head to the Brookfield Zoo website.
Where:
8400 W. 31st St.
Brookfield, IL 60513
When:
Dec. 2-3, 9-10, 16-17 and 26-31 from 4-9 p.m.
Cost:
$19.85 for adults and $14.50 for seniors and children ages 3-11. Save a dollar on each ticket when you purchase online.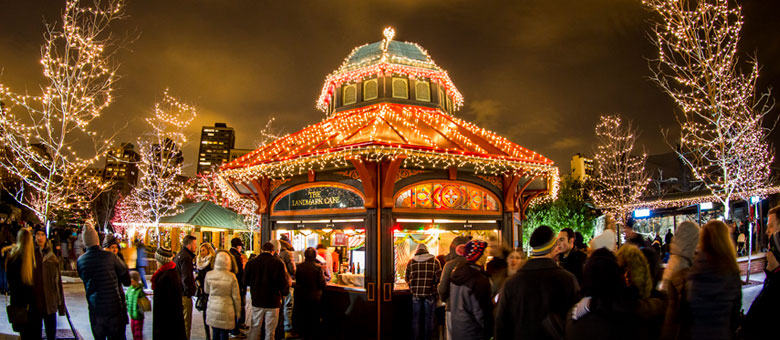 Lincoln Park Zoo
The Lincoln Park Zoo, another longtime location where Chicago-area residents go to enjoy holiday light displays, is celebrating it's 23rd Annual ZooLights event this year. There are several special light displays to check out, including exhibits in 3-D, a musical light show and an area called Candy Cane Lane that includes more than 100 giant themed figures covered in lights. There are other things to do and see at the zoo, including a light maze and gift shops. For details on all the additional activities at ZooLights, head here.
Where:
2001 N. Clark St.
Chicago, IL 60614
When:
Nov. 24-26, Dec. 1-3, 8-23, 26-31 and Jan. 1-7
Cost:
Free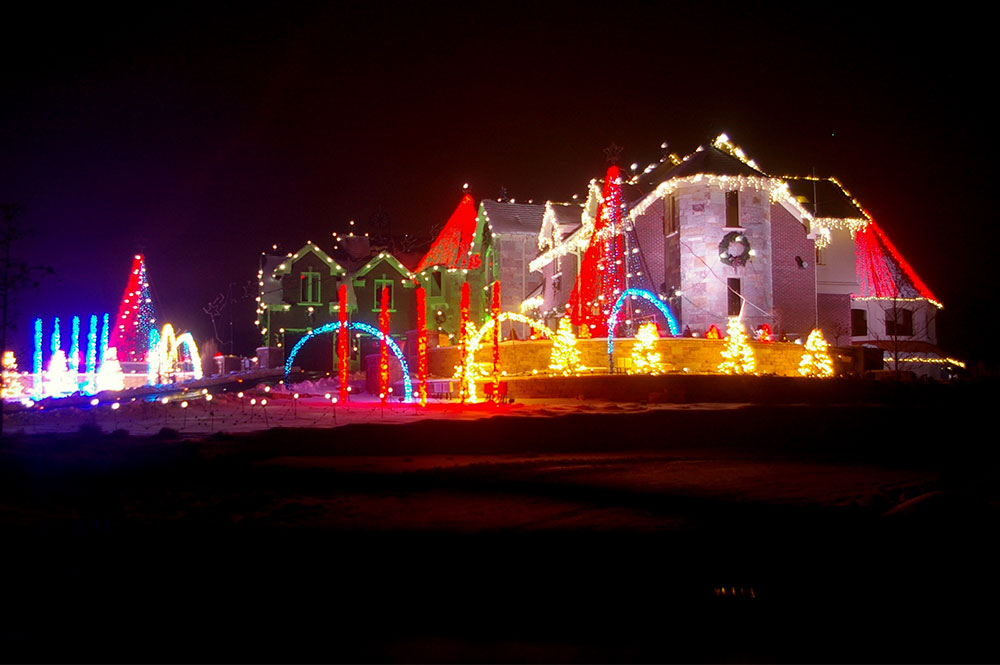 Larsen's Residence in Elburn
Since 2006, Illinois resident Brian Larsen and his family have put on a light show, Larsen's Light Show, at their home, and it's a hit every year. In 2013, it was a winner of the ABC reality television series, "The Great Christmas Light Fight," which pits families and groups that set up intricate Christmas light displays against each other. Judges on the show decide the winner. If you have access to a car, you will not regret the lengthy drive to the Larsen's home. You can see pictures and videos of the lights in action on the Larsen's Light Show website.
Where:
42W891 Beith Rd.
Elburn, IL 60119
When:
Nov. 23 to Jan. 2, Mondays-Thursdays 5-10 p.m. and Fridays-Sundays 5 p.m. to 12:30 a.m.
Cost:
Free (You can give the Larsen's a donation here)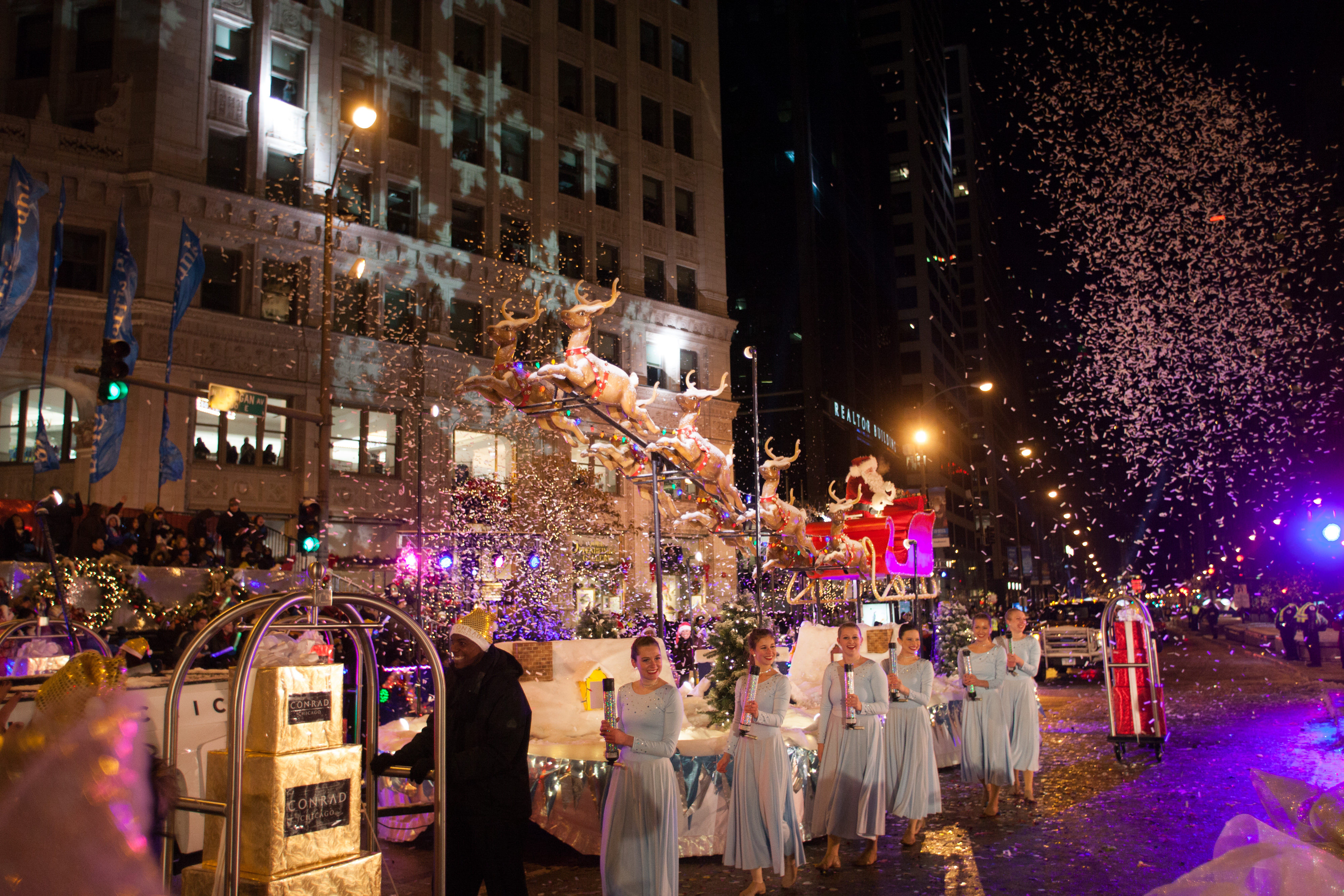 Magnificent Mile
This may be the most popular destination to see holiday lights in Chicagoland. The official lighting ceremony kicked off Friday, November 17, but the lights will stay up through the entire 2017 holiday season. The lights begin just north of the Chicago River near the Tribune Tower and continue along Michigan Avenue all the way up to Oak Street. There entire display contains more than one million lights.
Where:
401 N. Michigan Ave.
Chicago, IL 60611
When:
Through Jan. 1
Cost:
Free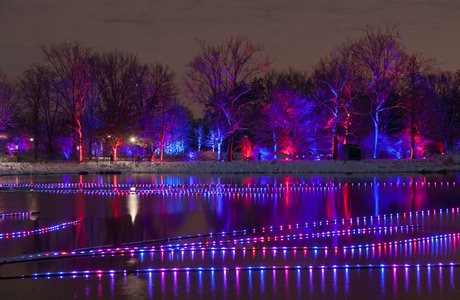 Morton Arboretum
The Illumination display at the Morton Arboretum is a one-mile walking trail that covers 50 acres of the garden's tree collections, which have been decorated with holiday lights and projections. This year, an interactive component has been added to the event. You can purchase an "illu-mediallion" to wear around you neck; it reacts to the different lights and sounds along the trail. There are outdoor fire pits, as well as heated concession tents you can use to escape the cold.
Where:
4100 Illinois Route 53
Lisle, IL 60532
When:
Through Jan. 1 from 4:30-9:30 p.m.(Illumination is closed Mondays, except New Year's Day, as well as Thanksgiving, Christmas Eve and Christmas Day)
Cost:
$18 for adults and $12 for ages 2-17 on weekdays and $22 for adults and $14 for ages 2-17 on weekends. You can purchase tickets here.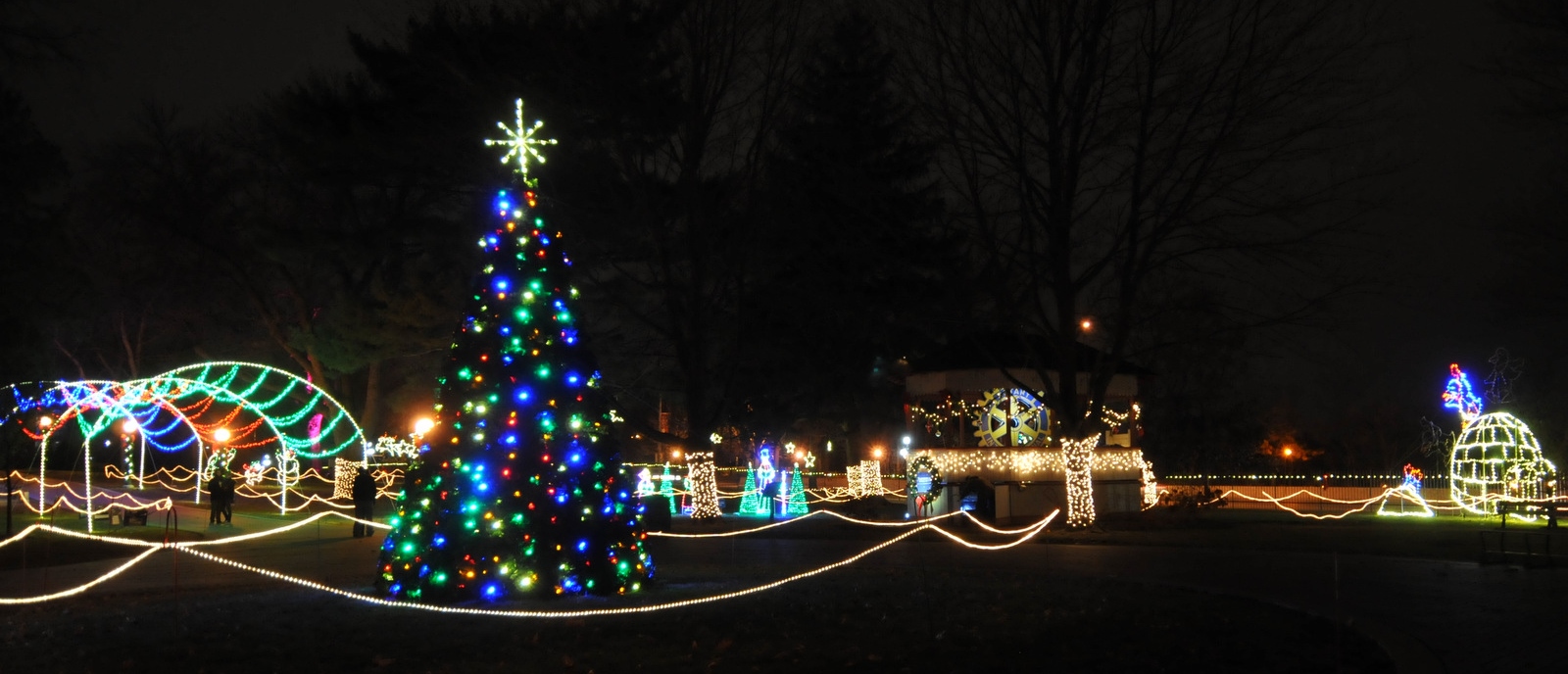 Naperville
There are a couple of ways to see holiday lights in what is one of Chicago's largest suburbs. There's the NaperLights event at the Naper Settlement, a 12-acre outdoor museum where lights are displayed throughout the property for visitors to enjoy. And throughout December, there are holiday lights trolley tours, which takes groups of passengers around Naperville to see some of the best residential holiday light displays. Tickets for the trolley tours can be purchased individually, and there are some private tours available for large groups.
The information below is for NaperLights.
Where:
523 S. Webster St.
Naperville, IL 60540
When:
Nov. 24 - Dec. 23, Thursdays from 4:30-7 p.m., Fridays and Saturdays from 4:30-9 p.m. and Sundays from 4:30-6 p.m.
Cost:
Free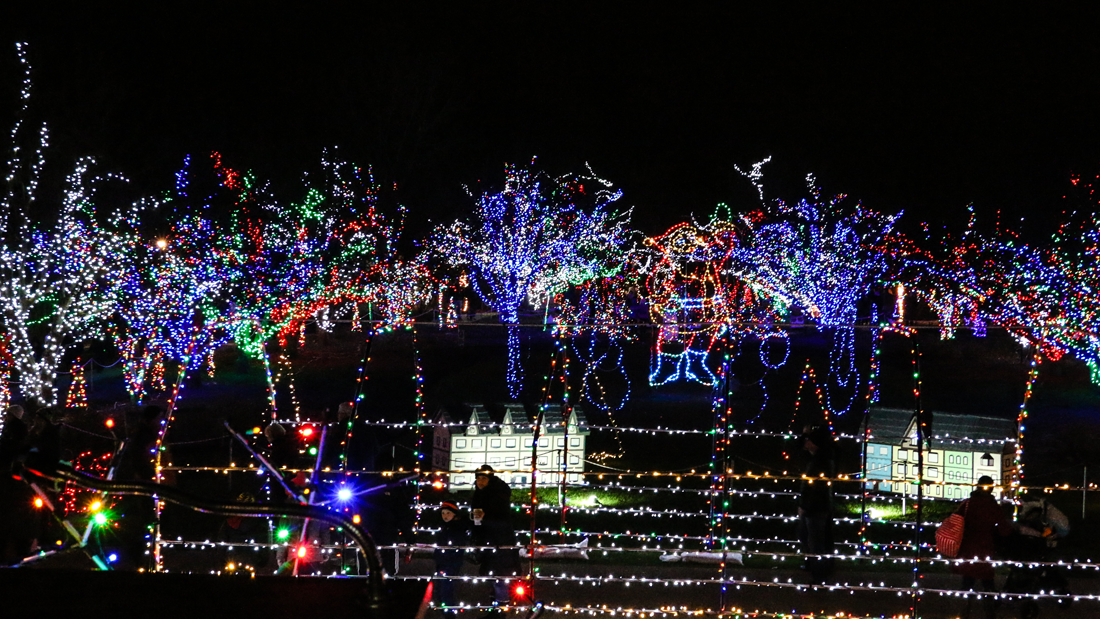 Lilacia Park
The Lilacia Park lighting display in Lombard includes animated light shows, decorated Christmas trees, a giant gingerbread house and more. There also are special events, such as Santa Claus appearances, a holiday craft night with Mrs. Claus, a Rudolph the Red-nosed Reindeer appearance and a Polar Express night, slated throughout December. For more details on all the special events, head to the Lilacia Park page on the Lombard Park District's website.
Where:
150 S. Park Ave.
Lombard IL, 60148
When:
Dec. 2 to Jan. 1
Cost:
Free