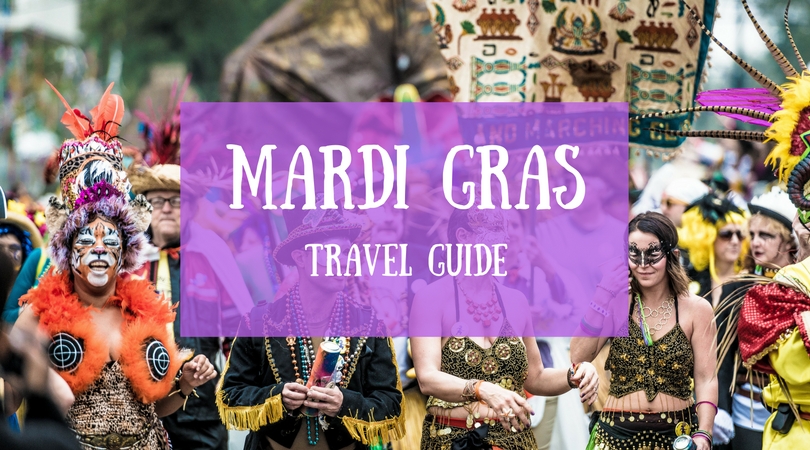 Mardi Gras began as a time of celebration and indulgence before the beginning of Lent, a time of fasting and reflection. It originally referred to Fat Tuesday, the day before Ash Wednesday, but now often refers to much of the festival of Carnival, which begins on January 6, as well as Fat Tuesday specifically.
Is Mardi Gras family-friendly?
Yes, absolutely! The Mardi Gras parades have a broad appeal and are child-friendly. Try to find a spot near the beginning of the parade route on St. Charles near Napoleon so you can watch the parades go through earlier in the day. Streetcars don't run in the Garden District area of St. Charles during Mardi Gras, so although you'll have to walk a short distance to set up a spot in this area, you can play games with your kids worry-free. This area of St. Charles will be full of other families picnicking and having a great time, too. Bring a bag or five to carry the toys and other goodies that will be thrown off the parade floats throughout the day.
Another great family spot is Metairie, a suburban area outside of downtown New Orleans that is part of several parade routes. You'll see plenty of local families as well as other visitors with their children, too.
For a test run for Mardi Gras proper, try attending the Krewe of Barkus dog parade two weeks before Mardi Gras, or the Caesar parade on the Saturday before Mardi Gras. The only area that tends to have more "adult" themes is the French Quarter, which is where Mardi Gras has gotten its risque reputation.
Do I need tickets to attend Mardi Gras?
Mardi Gras parades are completely free to enjoy. You can, however, purchase tickets for seats in the grandstands on St. Charles Avenue, which puts you close to the parade action, as well as to portable restrooms and food and beverage locations. A grandstand seat isn't necessary to enjoy the parade, but is a great option for people with limited mobility and those who have trouble standing or walking for extended periods of time.
You may also want to look into different pass packages depending on which parades you want to experience and how long your trip will be. If you don't want to use one of the public portable restrooms, you will often have to pay to access the restrooms of private establishments like restaurants. Some establishments sell bathroom passes to non-customers.
When should I book a hotel room?
Sooner, rather than later! By January, most of the hotels are thoroughly booked for Mardi Gras, and you may have to call around for hours to find a cancellation. Hotels in the Central Business District and the French Quarter start booking in August. There can be more openings in the early days of the parades, which can be a great way to experience the amazing festivities without the crazy festival crowds. In addition, you're unlikely to find a room with a balcony view of the parade outside of the French Quarter (where the parades are smaller and not family-friendly). Some people prefer to book a hotel in a suburban area and then travel into New Orleans to experience the parades.
Where can I park during Mardi Gras?
Vehicular traffic is severely limited during Mardi Gras weekend, and there can be a lot of congestion during Carnival due to the parade routes. Shuttles, buses, and streetcars can be unreliable and have rescheduled routes, so it pays to ask ahead of time what transportation will be available. Ask your hotel when you're booking if they provide shuttles to the parade areas, or how they recommend actually getting to the parade areas. A bicycle can be a helpful alternative during this time to taxis and other transportation methods. You also need to be careful of where you park--the police are out in full force during Mardi Gras, and if you double-park or some other parking violation, you can receive a fine, have your vehicle towed, or both.
What are some safety tips for navigating Mardi Gras?
Plan your transportation and your meals ahead of time, and give yourself "buffers" of time as needed to allow for traffic issues and getting lost. Although your smartphone is an easy way to access a map of the city, bringing a paper map is worth it in the event that your phone dies or service is unavailable due to the crowds. Check the weather forecast ahead of time and plan accordingly--wear comfortable shoes, bring sunscreen, and wear layers so you can deal with temperature changes throughout the day.
Avoid running out into the gaps between floats to grab a bead necklace or other trinket. This is an easy way to cause an accident, or at the very least get some unwelcome attention from the police and other parade spectators. Respect barricades and be aware that crowds can move unexpectedly and push you one way or another. If an item lands on the ground nearby, you can put your foot on the item to "mark" it, but do not reach down to pick it up until there is a gap between parade floats. You're in danger of being stepped on or knocked over otherwise.
When you're traveling with a group, it's important to have a plan in place in case you get separated. Children especially need to know what to do if they lose track of their grown-ups and how to stay safe. Everyone should have one another's phone numbers, full names and addresses, and the address and number of their hotel with them at all times (preferably on paper rather than in a phone). Give children in the group a card with this information as well as the location of a pre-arranged meeting place. If they get lost, they should find the nearest police officer and ask for help. And, of course, as mentioned above, do not take children to the French Quarter during Mardi Gras.
Study maps of New Orleans to get a good idea of areas that are safe and unsafe. If you want to spend time in the French Quarter at night, you need to dress plainly and hide your wallet or wear a travel wallet under your shirt.
Where do I go to the bathroom?
Public portable restrooms are available throughout the parade routes. To use the restroom of a restaurant, business, or charity, you often have to pay for the privilege. Charities and nonprofits use this as a way to raise funds. Restaurants and other businesses can limit bathroom access to paying customers only, but some also sell bathroom "passes" on a per-visit or per-day basis. Hotels are also allowed this privilege and often do not give "bathroom privileges" to non-guests.
How do I get official Mardi Gras merchandise?
There's really no such thing as "official" Mardi Gras merchandise. You are welcome to buy whatever souvenirs you would like as well as collecting trinkets from the parade floats, but any business or vendor claiming to have official merchandise is no more legitimate than the next vendor--there are no restrictions on what "real" Mardi Gras merch is.
What is this year's Mardi Gras theme?
This is a trick question! There is none. Individual parade float krewes decide on themes that they keep secret before the parade as they plan for it throughout the year. These Carnival Clubs are private non-profits that may fundraise or occasionally have corporate sponsors, but individual krewes decide on their themes, not some overarching board.
How should I choose which Mardi Gras parades to go to?
That's up to you! First-timers may like to see the "super krewes," Orpheus, Bacchus, and Endymion, which have the biggest and most intricate parade floats. You can choose what parades you see based on dates, times, and locations, or look through the different parade krewes to see which ones are most interesting to you.
What should I pack for Mardi Gras?
Check the weather forecast in advance, but at this time of year, the city can range from very cold to very hot, sometimes switching from one extreme to the other throughout the course of the day! Raincoats, umbrellas, and sunscreen are all good ideas, plus sturdy and comfortable shoes that can get wet, dirty, or both. Bring layers so you can adapt to temperature changes. A backpack can carry these items as you take them on and off without bothering your back. Another good idea is to invest in a travel wallet as a way to securely carry your money, cards, and any IDs and other important papers with you. These wallets can be worn around your neck or up on your torso. Bringing snacks and some food of your own for the day of the parade, as well as cash to pay for bathroom passes, meals, souvenirs, and beverages, is also a good idea.
Why do Women Show their Breasts at Mardi Gras?
This is the age old question! When you are at Mardi Gras, you will see many unbelievable sights, and many of them might be bare breasts! First of all, realize that you should not feel pressured to bare your breasts at any time. Along the parade route, there are many spectators handing out various items, like beads and also coconuts. Coconuts are considered to be a great treasure during Mardi Gras so traditionally some people would do anything to gain one, including women baring their breasts.
No one should ever do anything they are uncomfortable with or feel forced into doing something. It is also illegal for people to persuade women to show off their breasts along the parade route. Those who ask this can be arrested during the parade. Also keep in mind that these people are taking advantage of the drinking and atmosphere of permissiveness to coerce women into behavior they are not comfortable with. This behavior is in fact usually relegated to a very specific part of town and does not typically take place over the parade route where many families are enjoying the parade and festivities.
Is it Traditional for Women to Flash for Beads at Mardi Gras?
According to long-time New Orleans residents, no, it is not tradition! That is like saying it's tradition to get drunk and lose consciousness on the street during Mardi Gras. This "tradition" of flashing for beads takes place only in the Bourbon Street area of New Orleans, which is in the French Quarter. This part of New Orleans also has strip clubs, so that is a part of the reputation for this area.
In truth, many tourists and spring breakers flock to Bourbon Street after the parades where they drink heavily and lose their inhibitions. The already seedy nature of some businesses in the area encourages people to ask women to flash for beads, and as Bourbon Street's reputation for this kind of behavior grew, so did the crowds.
Bourbon Street is not the real Mardi Gras. In fact, the real Mardi Gras parade, filled with floats and the Mardi Gras "krewes" does not even travel through Bourbon Street, because of the narrow street sizes. There are a few foot parades, but nothing like the "best free show on earth" the real Mardi Gras parade represents.
Many of those who attend Mardi Gras at Bourbon Street, which is in the French Quarter do not even realize that they haven't experienced the real Mardi Gras. The rest of New Orleans along with the surrounding towns and parishes all celebrate Mardi Gras in the traditional way, with music, food, parades and family. The activities on Bourbon Street are much publicized, but they do not represent the way that real citizens of New Orleans celebrate Mardi Gras.
Mardi Gras: A Holiday for Drunken Lunkheads?
Sadly, the perception of Mardi Gras in New Orleans is that it's a place full of debauchery and excessive consumption of alcohol. The reality is that Mardi Gras is a family event! Families line up along the parade route to picnic, enjoy the beautiful parade floats and listen to the jazz music. Families with younger children delight in catching beads, candy, toys or doubloons from the floats and celebrities.
Activities like over-consumption of alcohol and the flashing of bare breasts on Bourbon Street is only about 1% of the Mardi Gras that New Orleans knows and loves! Part of the issue is that the news media focuses on the lascivious and raunchy behavior of a few people in only one part of town. As that reputation was built over time, eventually more and more people of that caliber came to participate in those Mardi Gras "festivities" on Bourbon Street in the French Quarter. This has become a vicious cycle that just keeps feeding on itself. The more tourists and spring breakers come to experience this debauchery and foolishness, the more the national news media covers this behavior.
If the Bourbon Street activities are so out of character for the real Mardi Gras, one might ask then why the media has featured Bourbon Street so prominently? The reason is simple; sex sells, and the lewd, drunken behavior is something that the rest of the country loves to read about and cluck their tounges at. When the media comes to New Orleans to cover Mardi Gras, they head straight to Bourbon Street in the French Quarter, where the encounter only tourists and spring breakers, not real residents of New Orleans!
The real citizens of New Orleans know well that they should avoid Bourbon Street after the parades on Mardi Gras, and they do! Thousands of dollars and countless hours are spent preparing for the lavish parade floats. So many citizens take pride in their participation and their status in the Mardi Gras "krewes" that are a long-standing tradition in New Orleans. These labor intensive floats and masterful costumes of the real Mardi Gras are rarely shown by the national news media. Instead, the media focuses on the bad behavior of a few tourists in one very specific part of town.
In order to have the authentic Mardi Gras experience, stay away from Bourbon Street, especially after dark. The locals certainly don't go anywhere near there! They know that Bourbon Street, while a spectacle in and of itself, it is no indicative of the real Mardi Gras that the local people of New Orleans know and love. Make sure you try as many of the delicious Mardi Gras treats as you can. Be sure to claim a seat along the main parade route and collect as many beads, toys, and other free items as you can during the parade! Try to learn about the history of the various "krewes" that make up the teams that build and parade the floats through the streets of New Orleans. These teams go back many, many years and membership in a specific "krewe" are often hereditary, mean you are in one because your family has been in it for years!
The reality is that Mardi Gras is and traditionally has been a family-focused event where picnicking, outdoor activities, and food-based traditions are the real story. Remember, Mardi Gras does have its roots in religion, as it is a celebration before the beginning of Lent, which is a time when Catholics traditionally deprive themselves of something for the six weeks leading up to Easter. We hope that everyone will at one time visit New Orleans and participate in the real Mardi Gras activities, not just the ones on Bourbon Street in the French Quarter.
Are Tickets Required for Mardi Gras?
All of the parades are free of charge. That is why Mari Gras is known as the "Greatest Free Show on Earth." You only need a ticket if you want to sit in the stands to watch the parade.
What Is the Difference between Carnival and Mardi Gras?
Carnival and Mardi Gras mark the beginning and the end of a period of feasting and revelry. Carnival kicks things off on January 6. Mardi Gras ends the celebrations on Fat Tuesday, which is the day before the beginning of Lent.
When Did New Orleans Hold Its First Mardi Gras Parade?
The Krewe of Comus organized the first parade with floats on February 24, 1857. A ball was held following the parade for the krewe and invited guests.
What Is the Meaning Behind the Mardi Gras Colors?
By the 1870s, the Rex Organization began holding one of the most elaborate Mardi Gras parades along with elegant ball. The organization would designate a King of Carnival, known as Rex, to preside over the festivities. Rex made purple, green, and gold the official colors of Mardi Gras in 1892. Gold signifies power, green stands for faith, and purple indicates justice.
Why Do Float Riders Wear Masks?
In the beginning, masks were worn as a way to allow the wearer to escape their normal societal role and to become whomever they wanted. The tradition continues to this day and adds an air of magic and mystery to the celebrations. Anyone riding a float is required by law to wear a mask. Everyone else can join in the fun on Fat Tuesday.
How Is the Mardi Gras King Chosen?
Rex, the King of Carnival, is selected by the School of Design, which sponsors the historic Rex parade. The identity of the person chosen to serve as Rex is disclosed the day before the parade. Other krewes may select their own king through drawings or by invitation.
When Did the Tradition of "Throws" Begin?
Float riders began tossing trinkets to bystanders starting in the 1870s. The tradition lives on with some of the most popular "throws" being cups, beads, stuffed animals, and doubloons.
How Big Is Mardi Gras?
A typical Mardi Gras season features more than 1,000 floats in 50 parades covering over 300 miles. More than 130,000 people normally take part in the various parades.
What Is the Economic Impact of Mardi Gras?
The various Mardi Gras activities generate approximately $1 billion in annual revenue for the local economy.
How Is the Local Government Involved in Mardi Gras?
The parades are organized and scheduled by the various krewes. Other than issuing parade permits, the city government is not involved.
How Is Mardi Gras Funded?
All Mardi Gras parades and balls are funded by private, non-profit organizations known as krewes. The krewes work throughout the year to plan their costumes and parade theme. They raise money through membership dues, fundraising events, and merchandise sales.
Why Does the Date of Mardi Gras Change Every Year?
Mardi Gras is always held 47 days before Easter. Since Easter can occur anywhere from March 23 to April 25, Mardi Gras can take place as early as February 3 or as late as March 9.
Is it Safe to Bring Children to Mardi Gras?
Despite what you may have heard, Mardi Gras is suitable for the whole family. The Garden District is a popular area for families with children to watch the parades. The French Quarter is more adult oriented; however, the major parades do not pass through there because of the narrow streets.
Mardi Gras Parade Tips
Plan in Advance
Locals and out of towners who are familiar with Mardi Gras start planning months in advance. Hotels in the Central Business District, the French Quarter and other parts of New Orleans start booking rooms in August for Mardi Gras. They often also require a minimum stay of four or even five nights, so don't wait too long to book your trip!
Choose a hotel near one of the main parade routes or a hotel with Mardi Gras packages. You can also try the hotels listed on BestNewOrleanHotels.com. If you decided later in the year that you do want to attend Mardi Gras, just try calling around town. Hotels will often have cancellations and rooms will come open closer to the actual festivities.
Don't forget that the parades and the Mardi Gras events start before Fat Tuesday. It can be easier to get a hotel room for earlier in the season, right when the parades start happening. This is also a great time of year to visit New Orleans anyway, and you'll get to experience many of the same parades and attractions without the rowdy crowds that come on Fat Tuesday or the oppressive heat and humidity that enclose New Orleans in the summer months.
Familiarize Yourself with Parade Rules
In 2014 the New Orleans City Council put several new Mardi Gras parade rules into effect. You should know them before you attend the parades. This will keep you from being ticketed, and also you won't bring a lot of things that won't be allowed in or that you'll have to get rid of later. Here is a brief list of the new parade rules: No personal effects within 6 feet of the curb. (Coolers, grills, ladders, etc.prior to) No parking on either side of Napoleon and St. Charles. This ban begins before the parade. You may not rope off areas with tarps, chairs or other items in the public way. Portable toilets are not allowed on public property or neutral ground.
Have a Travel Plan
If you plan on driving into New Orleans or the French Quarter, don't forget that cars are prohibited in the French Quarter during Mardi Gras. Only residents and those in French Quarter hotels can pass the police roadblocks. Commercial parking lots outside the main areas will become full quickly, and they can be very costly so if you plan to park in one get there with plenty of time to spare. Cabs can also be very hard to find around these events, so plan accordingly. An Uber will certainly be on surge pricing all during Mardi Gras, so they will be more expensive than usual.
Be sure to have a good map with you and rely on the concierge of your hotel or friends from the area to help you plan your route. Many neighborhoods of New Orleans can be dangerous, even if they are close to tourist areas. During these events, there are many street closures and changes in traffic patterns, so it can be tough to know how to get around. The same also goes for public transportation. There are many changes over Mardi Gras, so ensure you have a plan for how to get back to your hotel at the end of each day.
While you should ask your hotel if they are running a shuttle to the city, don't count on it. Because traffic becomes so terrible during Mardi Gras many amenities that are usually available are not in place over Mardi Gras.
A bike can be a great way to get around the city, and it can help you obtain access to parts of the city that are closed to vehicles or where parking is too much of a hassle. Bringing your own or renting a bike are both good ideas. Don't forget to follow the rules, wear a helmet, watch out for pedestrians, and remember to lock up your bicycle when it's not in use to keep it from being stolen.
Look Out for Parking Tickets
Be sure to look carefully and follow all posted parking signs. In short, if a parking spot seems too good to be true, it probably is! The city of New Orleans racks up hundreds of thousands of dollars in parking tickets and towing fees over Mardi Gras. You don't want to let your car be one of them. Also, do not park on medians or double-park.
Be the Early Bird
While it may seem like there is plenty of time to get in place for the bigger parades, the truth is that large crowds can, and do, gather very quickly. For the larger parades that roll in the evening on the weekends before Mardi Gras, try to get there about four hours before starting time to ensure that you get a decent spot.
If you arrive closer to start time have respect for the locals who have already set up their things or blocked off an area. Just because you don't see anyone there doesn't mean that spot is free. Families tend to set up together in the same place year after year, so don't move someone's belongings. Once the parade begins, you can more easily move to a better spot.
Mind the Police
Officers in the New Orleans Police Department are the hardest working men and women around during Mardi Gras. They are experts at crowd control, and during this time of the year, they are faced with plenty of unruly behavior. Fights, drunks, crowds, and many other issues will keep these officers busy all through Mardi Gras, so if an officer asks you to do something follow their instructions and be respectful.
You can keep yourself out of the efficient operation set up during Mardi Gras for arresting people by following the laws, including the drinking age and not becoming too drunk, disorderly or lewd.
Becoming very inebriated is not the sole purpose of Mardi Gras, no matter what the news media might have lead you to believe!
Come in Costume!
There is no other time or place where you can dress up as anything you can imagine! Be sure to check in on one of the costume contests that take place nearly everywhere in the city, and be sure to get lots of pictures. Any kind of costumes go, but if you plan on dressing in a lascivious manner, you'll want to keep it to the French Quarter, where most of the festivities lean toward the adult.
Watch the Weather
During Mardi Gras New Orleans can be rainy or sunny, hot or cold, so be sure to keep an eye on the forecast and pack accordingly. Regardless of what your plan for the day is, you will be outside so be sure to wear layers, bring sunscreen and wear good walking shoes.
Catch It!
A common phrase is "Throw me something, Mister!" You should absolutely try to catch as many items as you can. Be sure to bring a big bag to carry home your treasures. Some people may jump in front of you and grab what was tossed to you, but don't worry, lots more floats are on the way. It's not worth getting into an altercation over some beads or toys when there are plenty more coming!
You could also try making a sign that says where you are visiting from. Parade riders like to see out-of-towners, so this could mean more loot for you!
Stay Upright
Unless you're a Mardi Gras pro, don't try bending down to pick up items that have fallen on the ground. Your hands and fingers could be seriously injured, and you could be knocked over by a rushing crowd. Wait until the excitement subsides before attempting to pick up an item.
Stay Out of the Street
It is vitally important to stay out of the street. These floats are huge, heavy and have limited visibility. A surefire way to get the attention of a police officer is to hop the barricades, run into the street and start participating, getting in the way or grabbing at a float.
Use Common Sense
When walking with your children on your shoulders, or with small children, be sure to stay at a safe distance from the floats. Again, these are large pieces of complicated machinery with many moving parts and can be quite dangerous.
It's a Family Affair!
Traditionally, Mardi Gras is a time for families. All the parades in the city and the suburbs are suitable for families of any age. If you get there with plenty of time to spare you can have a picnic and get set up for the parades. You'll know when it's time to pack up the cooler and the picnic blanket.
Meal Plan
You'll be out all day, and so you should have a plan of attack when it comes to your meals. Practically every restaurant, cafe or bar along the parade route will be jam packed on the days of the parades and Mardi Gras, so make a reservation if possible. If a restaurant does not take reservations you should be prepared to wait, or be ready to purchase food on the street from a vendor. You'll want to carry some snacks and water with you, as well as hand wipes and hand sanitizer. Public bathrooms aren't easy to come by, and a place to wash your hands is even harder to find.
Ladder with Care
If you've never been to the parades before the ladders that parents use to give their children a better view of the parade can seem like an amazing idea. However, if you bring a ladder keep it back at least 6 feet from the edge of the parade route so in case it is knocked over, the child won't go into the street. If you aren't familiar with ladders, use caution while using one!
Make a Meet-up
There are thousands and thousands of people in narrow streets during Mardi Gras. Make sure that you have a plan in the event that anyone gets lost. Children should have a card with their hotel information on it, along with parents' numbers and a meeting place. Drill your child about what to do if they become separated, and make sure they know that they should find a police officer immediately.
Don't think you can rely on cell phone service. With these many extra people on the network, it can often be unreliable.
The French Quarter is not for Families
The French Quarter is not indicative of the real Mardi Gras experience. While the media portrays the French Quarter as the quintessential Mardi Gras occurrence since no parades occur there, it is not representative of the event.
During Mardi Gras, the French Quarter is a place for adults to engage in rowdy and raucous behavior that involves scanty costumes and revealing themselves for beads. Visiting the French Quarter is not a requirement for the enjoyment of Mardi Gras, and it is not a place for families or children.
Protect Yourself and Your Belongings
Keep careful track of your personal items no matter where you are when you are traveling, but the French Quarter in the evening can be especially rife with thieves and pickpockets. Fancy jewelry, cell phones, cameras, and handbags all make you an easy target for criminals. It's easy for thieves to grab any of these items and run off. In the crowd, it's unlikely that you'll ever see that person, or your property, again.
Parades over Parties
Locals and those in the know are ready to celebrate Mardi Gras with the parades. These are widely considered to be the best part of the celebrations, and there are many different ways to take advantage of them. Packages are often put together by restaurants, businesses, and hotels that offer food, drink and parade seating. Celebrity parties take place after some of the biggest parades on historic St. Charles Avenue.
Keep it Clean
While you might see risque behavior in the French Quarter, locals and experienced Mardi Gras goers know that this behavior should not be exhibited outside of that area. The police are not lenient around this issue, and these are family events, so this kind of behavior is totally inappropriate. In addition, this behavior can cause distractions, and both children and adults can be hurt while taking in the, ahem, sights.
Participate
New Orleans loves its visitors, and we love to have you experience our city! We want you to shop, eat, explore and stay as long as you're able. Try NewOrleansCoupons.com to find some great deals and packages. Don't forget to take in some jazz music during your stay, and try to taste as many delicases as possible while you're here. With proper planning, you can have the time of your life in New Orleans for Mardi Gras.